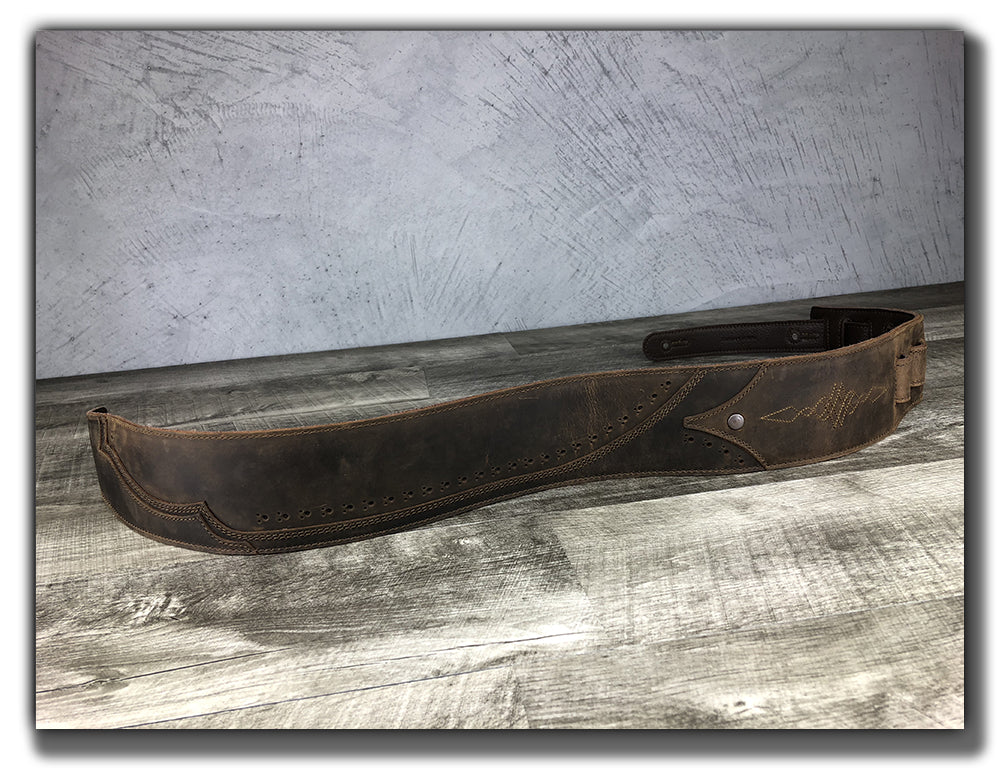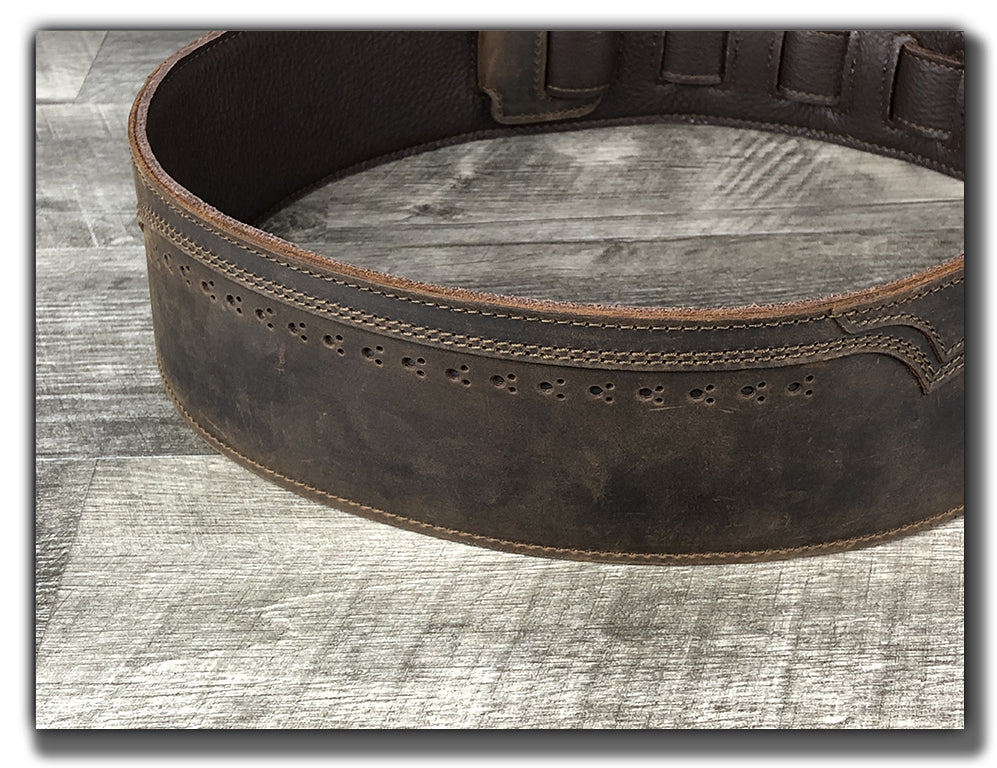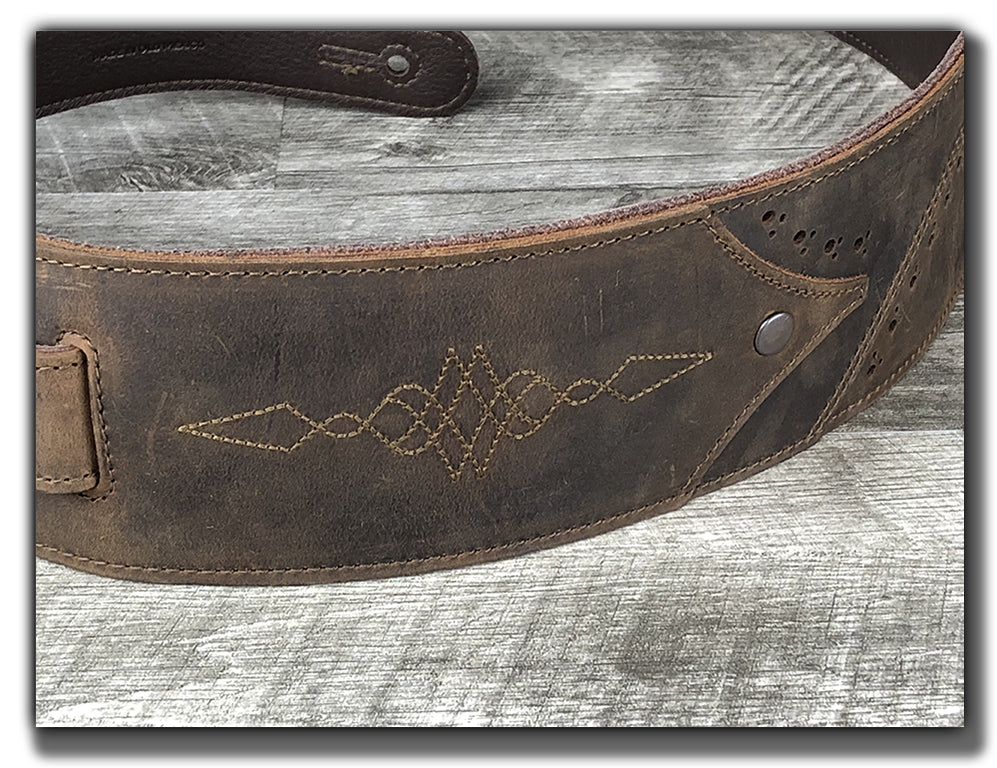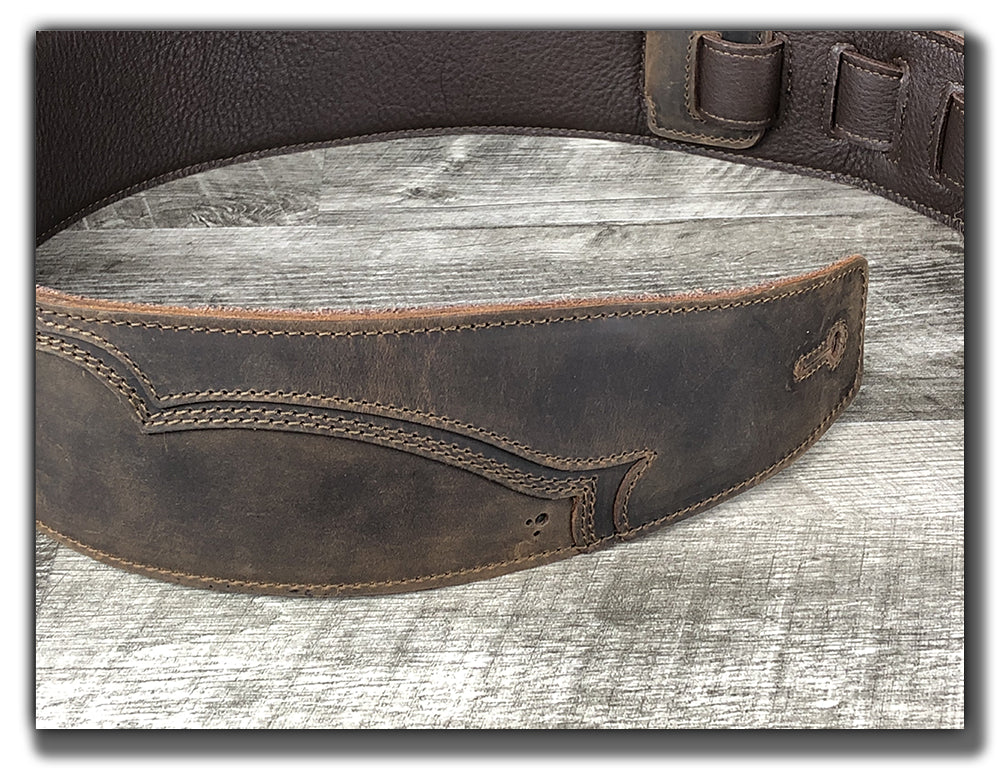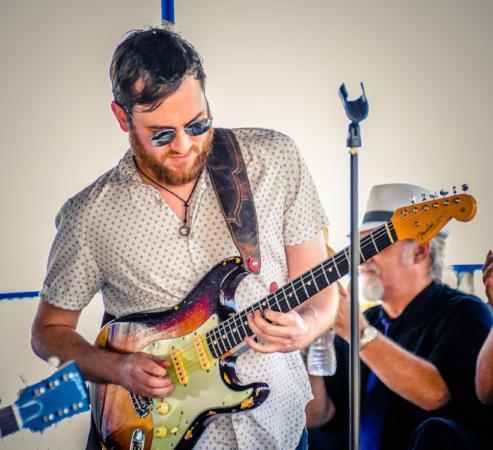 Walk The Line - Whiskey Brown Leather Guitar Strap
Walk The Line
They talk about people who see the glass as half full or half empty. But then there are folks like me — folks who can just never decide.
Uneasy souls, we keep staring at the damn glass like an abyss. I stare until my eyes hurt and neck aches, never sure, never satisfied. Out of frustration with knowing that glass can never be full, I'd rather empty it altogether and at least put the gnawing uncertainty to an end.
Stopped wondering why I'm that way a long time ago. If some people find peace easily in this life, well, I'm just not one of 'em. In my corner, constant restlessness prevails. All the stuff that's supposed to help, supposed to deliver that elusive satisfaction, doesn't work for very long, if at all. You can seek relief with assorted thrills and escapes, whether sold on TV or on a dark street corner. You can self-medicate via substances, money, power, attention, possessions, conquests, and all the rest. But that dark cavern of emptiness always returns to collect, doesn't it?
So I'm always wrestling with the light and darkness. When I'm in the light, the darkness calls to me like a temptress, and when I'm in the darkness, well, the light becomes so hard to find. Guess when you're doing wrong, there is no knowing better.
And yet sometimes, when least expected, the beauty of it all comes back out of nowhere, penetrating even the deepest darkness like a flashbulb. It grabs me by the heart and steadies my trembling hands. For a few fleeting, but exhilarating moments I feel ashamed — ashamed for being such a wretch, a sinner, an ingrate. At those redemptive, humbling times, the glory is nearly more than I can bear. I find myself playing my guitar with such joy that the dirt falls from my fingers on its own.
Yes, there's hope down there in the depths. Again and again, I've found it. Even after I'd stopped bothering to look.
The struggle keeps me honest, I suppose. Or close enough. I certainly don't have a monopoly on pain, heartache, and trauma. I don't even claim that the burdens of my load weigh heavier than anyone else's. There's no way of knowing. I pray for everyone these days. Having survived this long, all I know for sure is that, whatever the challenge or flaw or loss or confusion, the only way through is forward.
So I walk the line.
GUITAR STRAP WIDTH:
Available in 3" width

GUITAR STRAP LENGTH:
Strap adjusts from 39" - 54" (See our blog post for Tongue Tying Tricks)
For a long guitar strap (adjusts from 54" - 63"), add optional Jumbo Tongue (sold separately)

Full Grain Leather  All Anthology leather guitar and bass straps are hand-made with the absolute finest quality full-grain leathers in the world. Our leathers are chosen for their ability to fully distribute the weight of the guitar across the strap, for a more comfortable playing experience on those long gigs.

Your guitar strap may feel a little stiff at first - that's just the thickness and strength of full grain leather. Like a new pair of high quality leather boots, you need to break it in. The more you wear your guitar strap, the softer it will get.

To top it off, our leather burnishes and beautifies with use. All of our leather guitar straps have their natural marks, scrapes and scars, which means they have loads of raw, rugged personality.

Padded for Comfort  Our leather guitar straps are not only great looking, they're also super-comfortable. Between two layers of full-grain leather, we use a high-density, premium padding to maximize comfort without sacrificing strength. Although not as thick as some padded guitar straps out there, our premium padding will not break down over time. We give the guitarist the best of both worlds, a streamlined padded guitar strap. Comfortable and durable with style!

Industrial Grade Thread  Even better, we use only the strongest industrial grade threads, the same threads used to make parachutes and airbags. That's strength you can trust.

Satisfaction Guaranteed  All leather pieces offered by Anthology are protected by a 30-day full satisfaction promise from the date of delivery, which guarantees a full refund as long as the product is returned in new and unused condition. All leather pieces have a 25 year warranty against all defects in materials and workmanship.
What's the Right Guitar Strap Length?
If you're buying as a gift and don't have access to measure the current strap, or you just can't wait until you get home to take the measurement, there are several factors to consider:
The main functional issue with respect to buying a guitar strap online is getting the length right. Our straps are measured from attachment hole to hole. The best way to determine your ideal length, or that of the musician you're buying for, is to measure the previous strap. If you don't have a strap to reference for whatever reason, we've assembled some general guidelines for length (supplemented with this friendly disclaimer: if you find our standard strap is too short, you can always add a jumbo tongue).
Elements to consider:
1. Player height and weight:
• In general, players who are 6' and under, and average weight, should be fine with a standard length strap.
• Players over 6', or with more weight, could use a jumbo tongue.
2. Electric or acoustic:
• Because acoustic guitar bodies are deeper, guitar players 5'10" and over will likely prefer a strap with the jumbo tongue.
3. Placement of attachment pegs:
• The strap attachment peg on the guitar can be in a couple of places. On some guitars the peg is at the top of the bout; on others, it's placed where the guitar neck meets the body of the guitar. In the case of the latter, a few more inches will be needed, and a jumbo tongue might be the way to go.
4. How low or high the player holds their guitar:
• If the player is a rocker, with their guitar a bit below the waist, a jumbo tongue might be the way to go.
• If the player holds the guitar from the waist up, our standard length strap should do the trick.