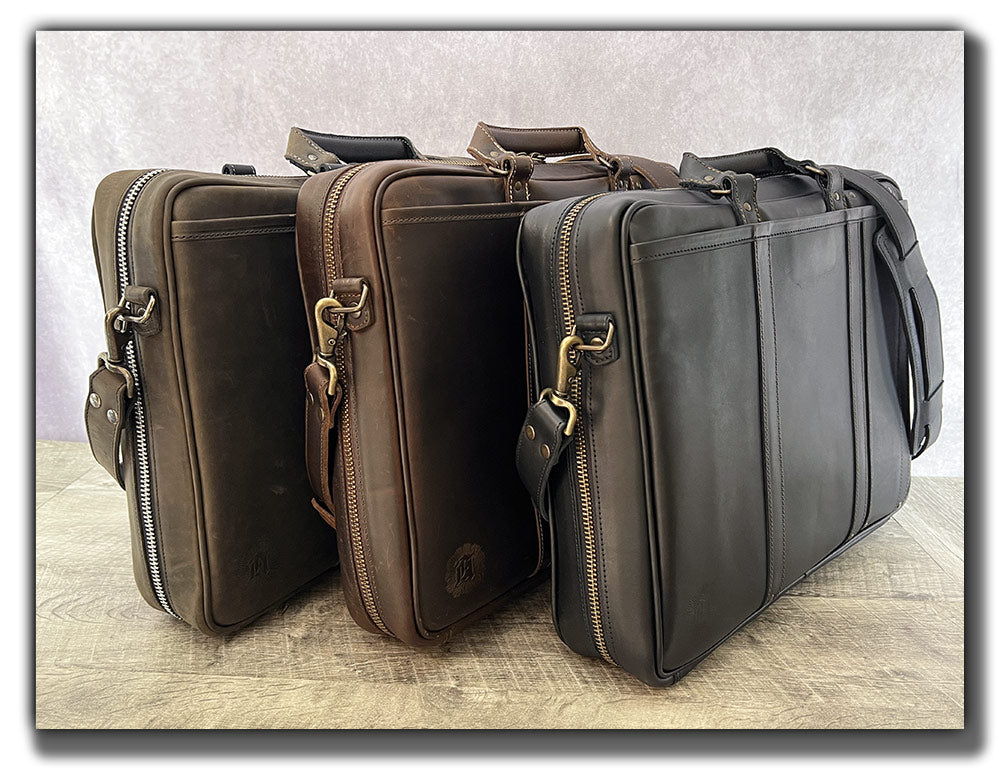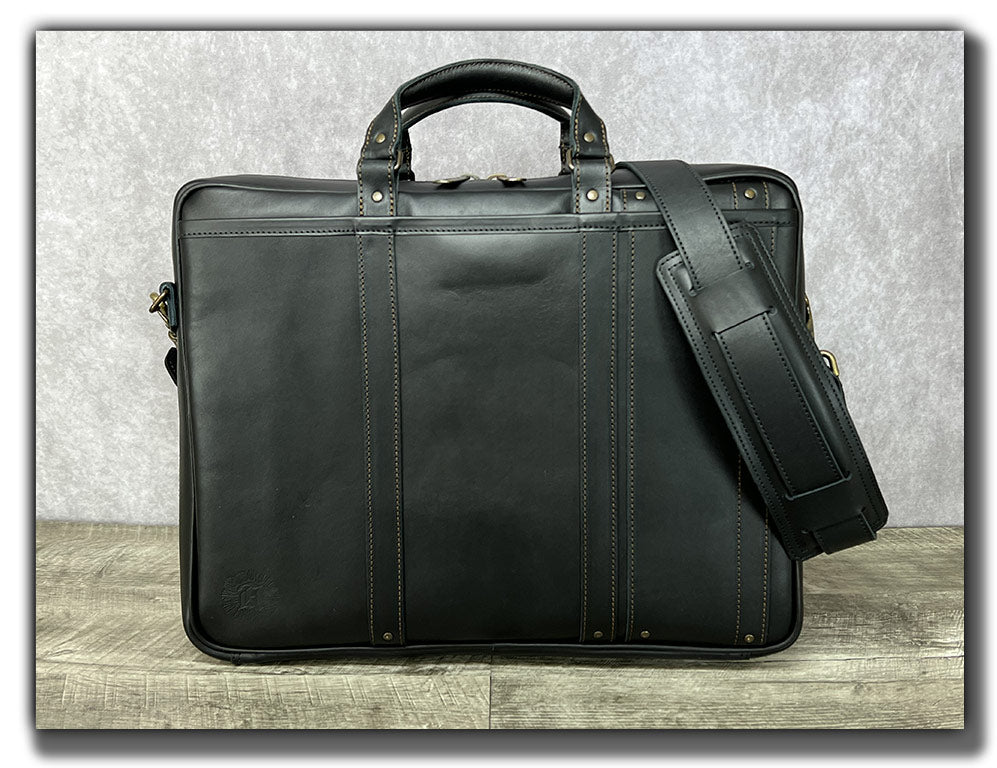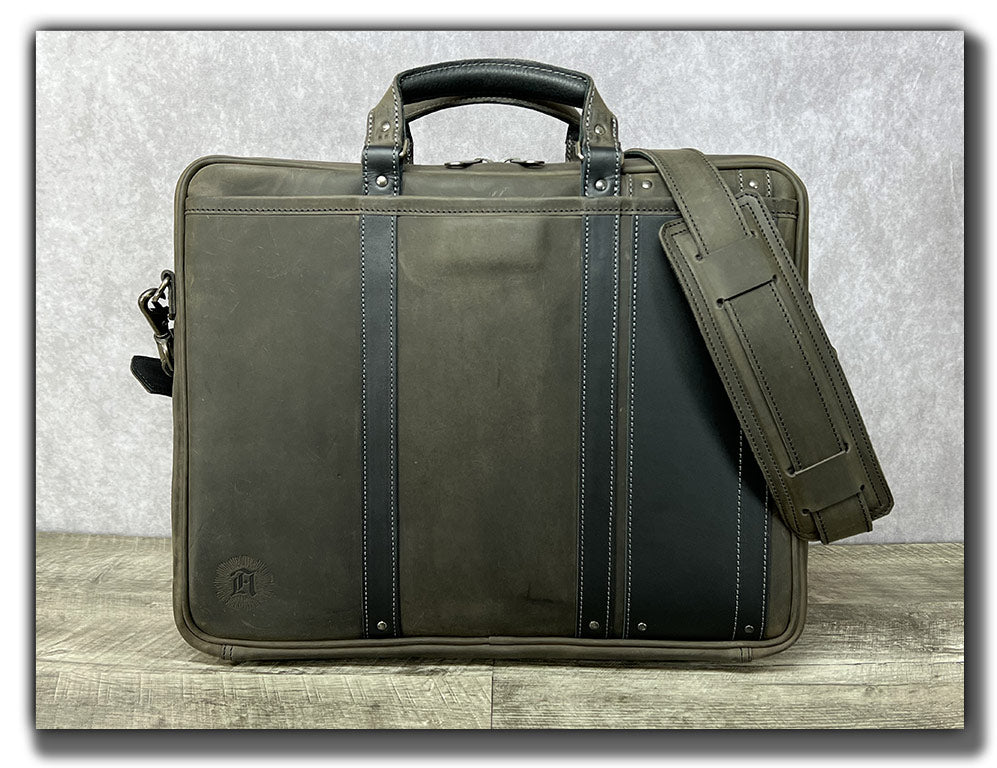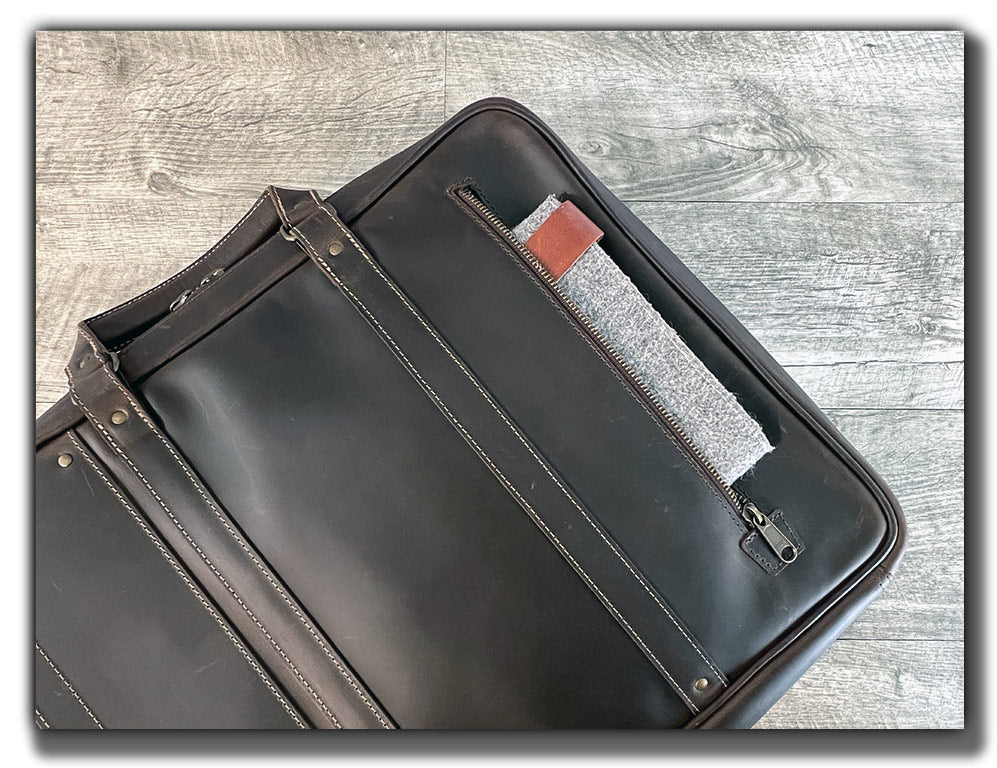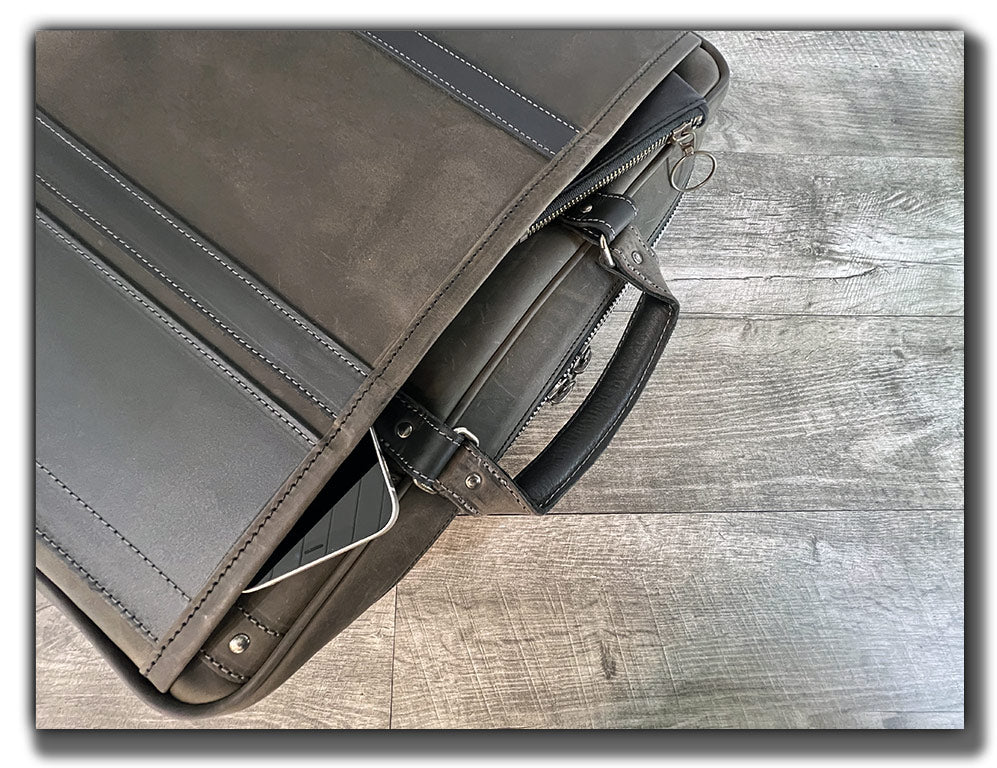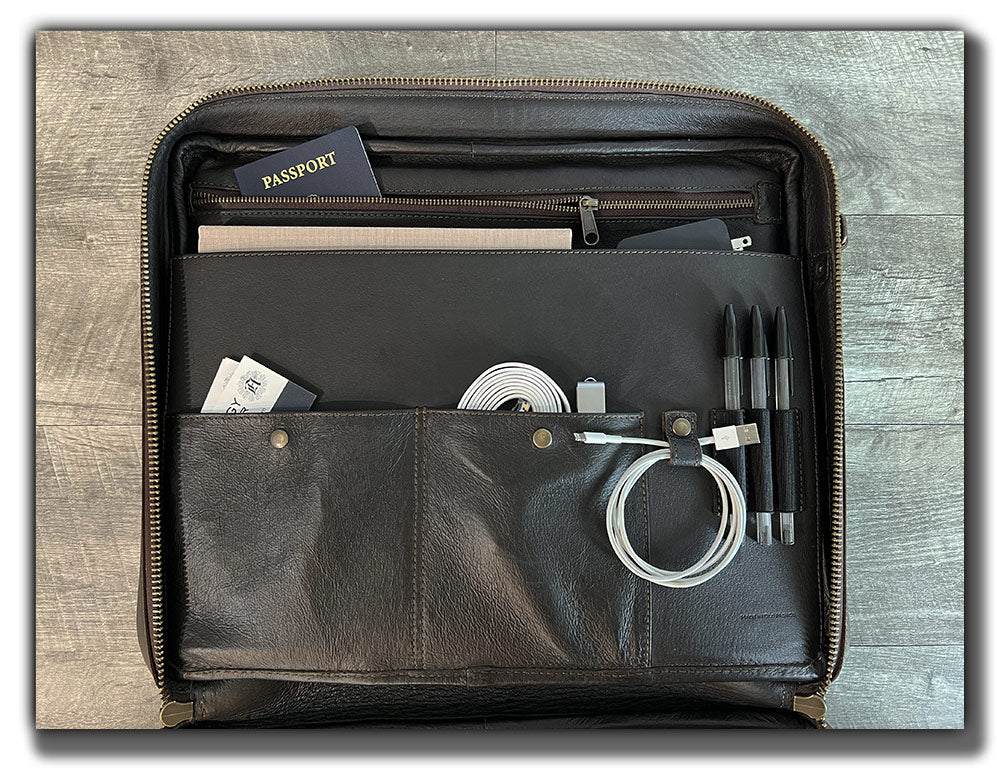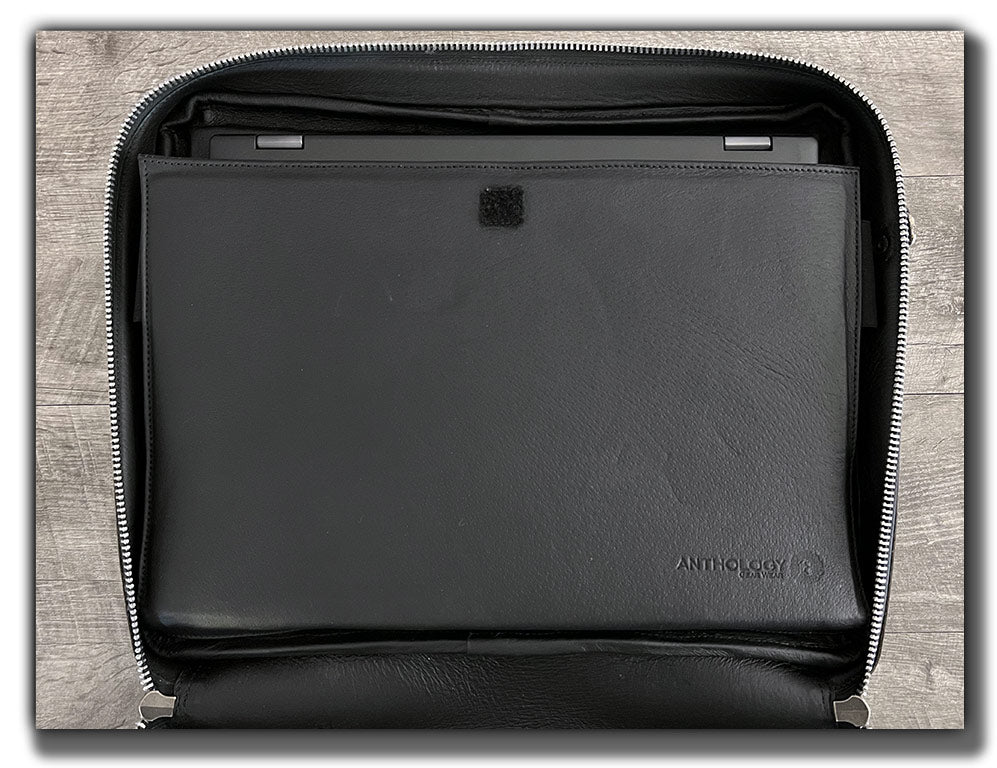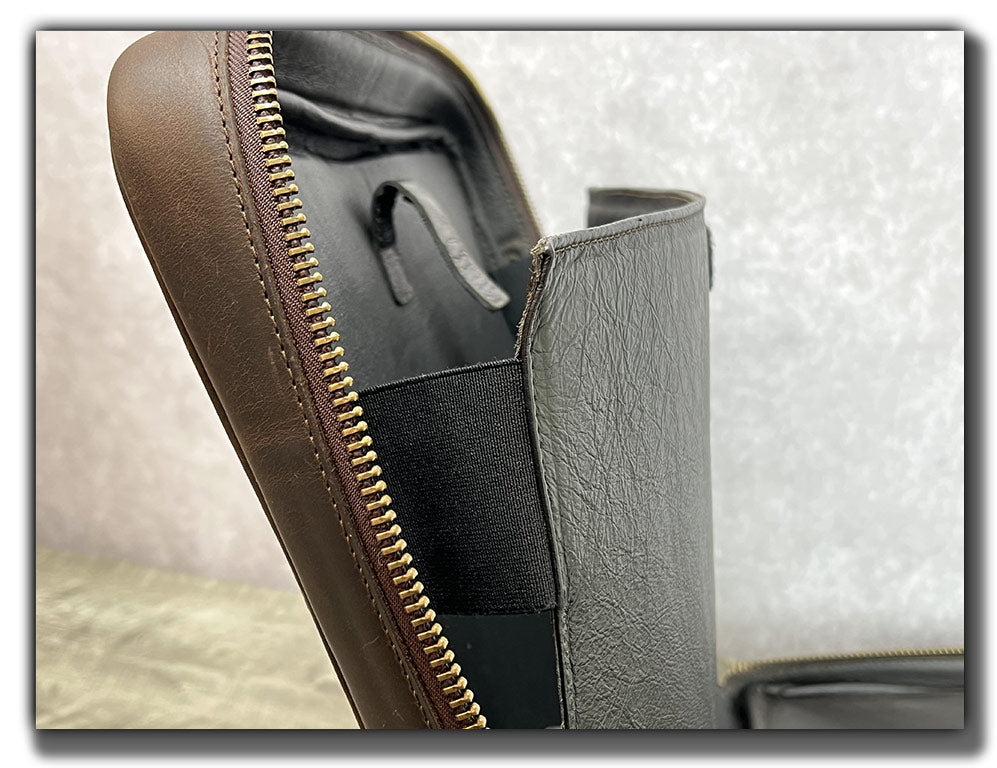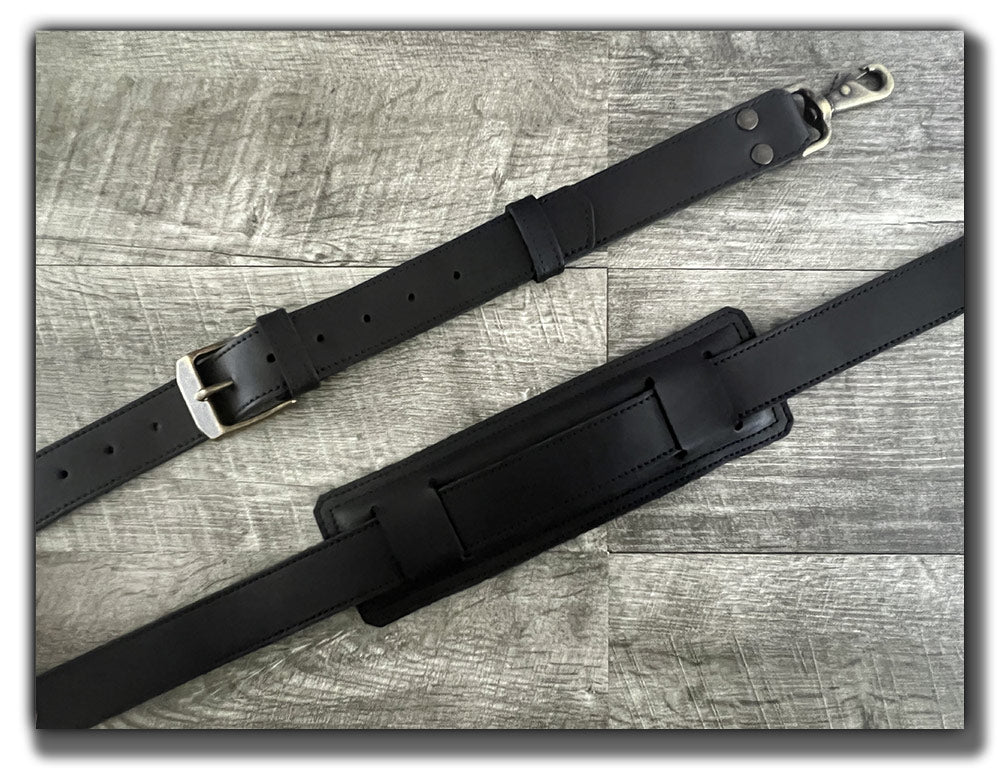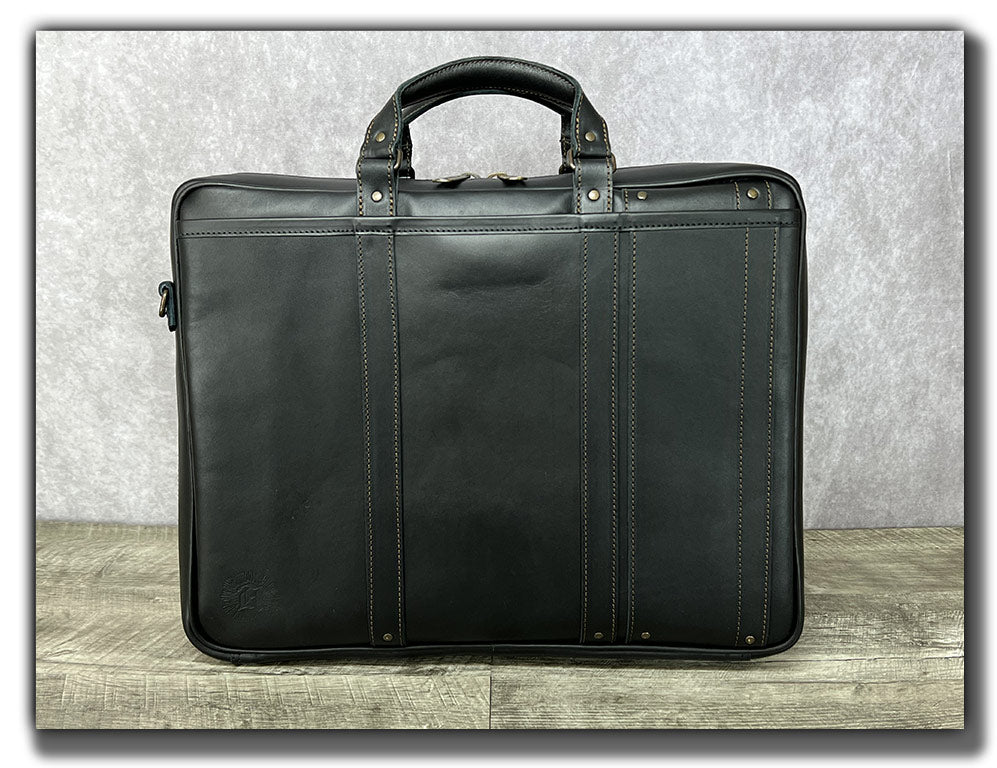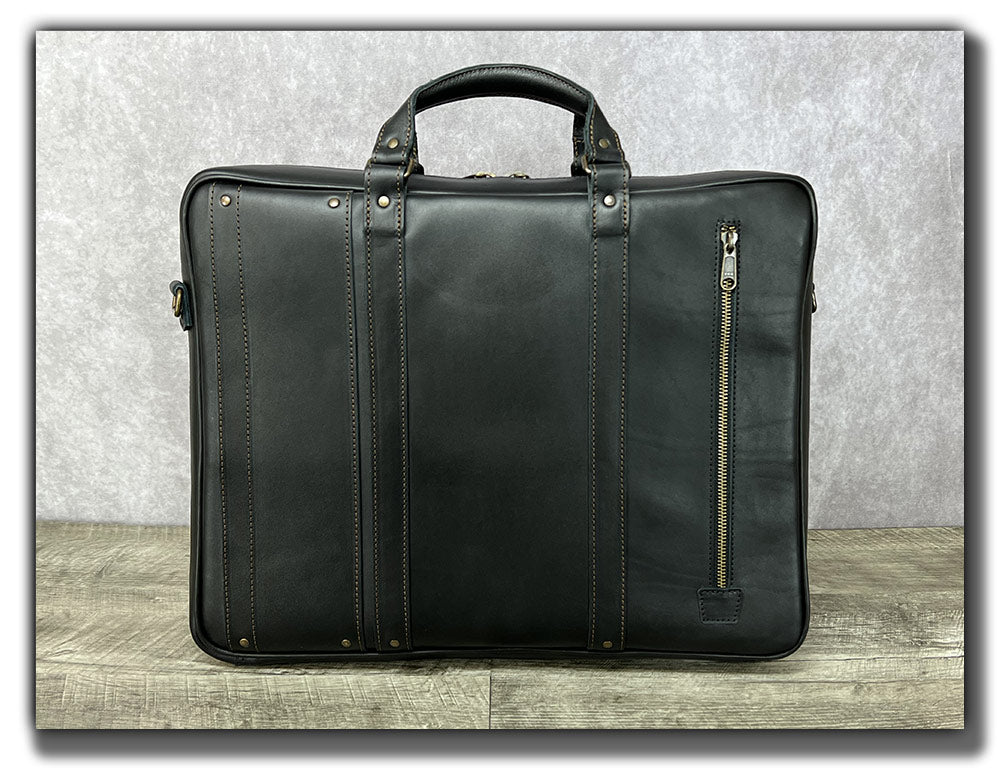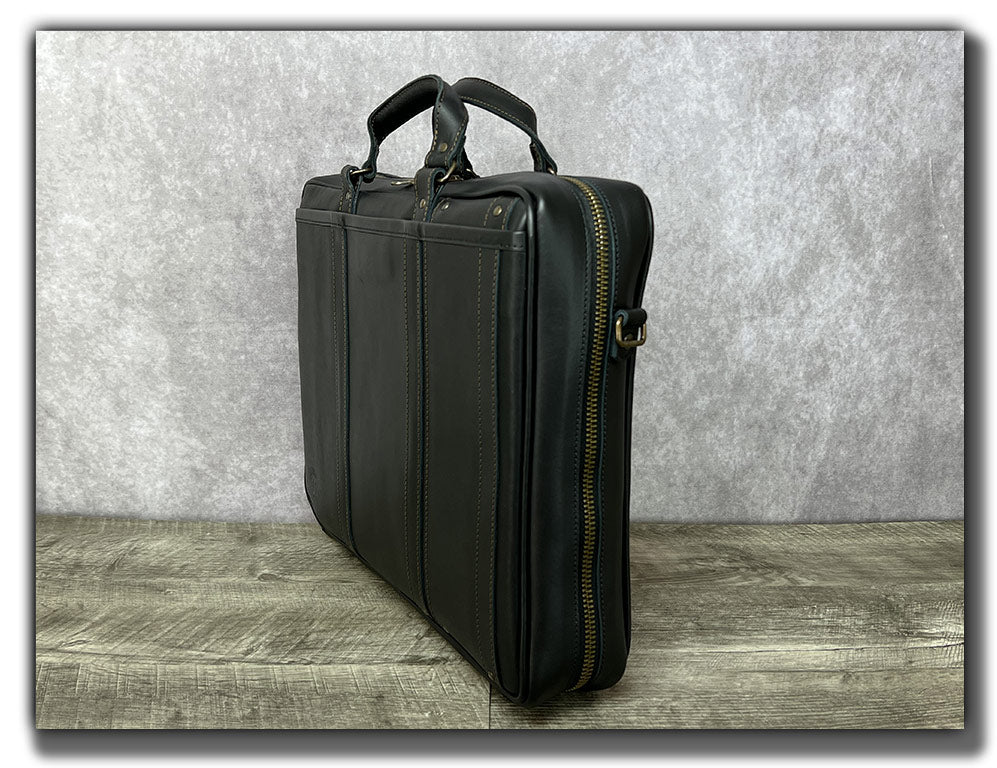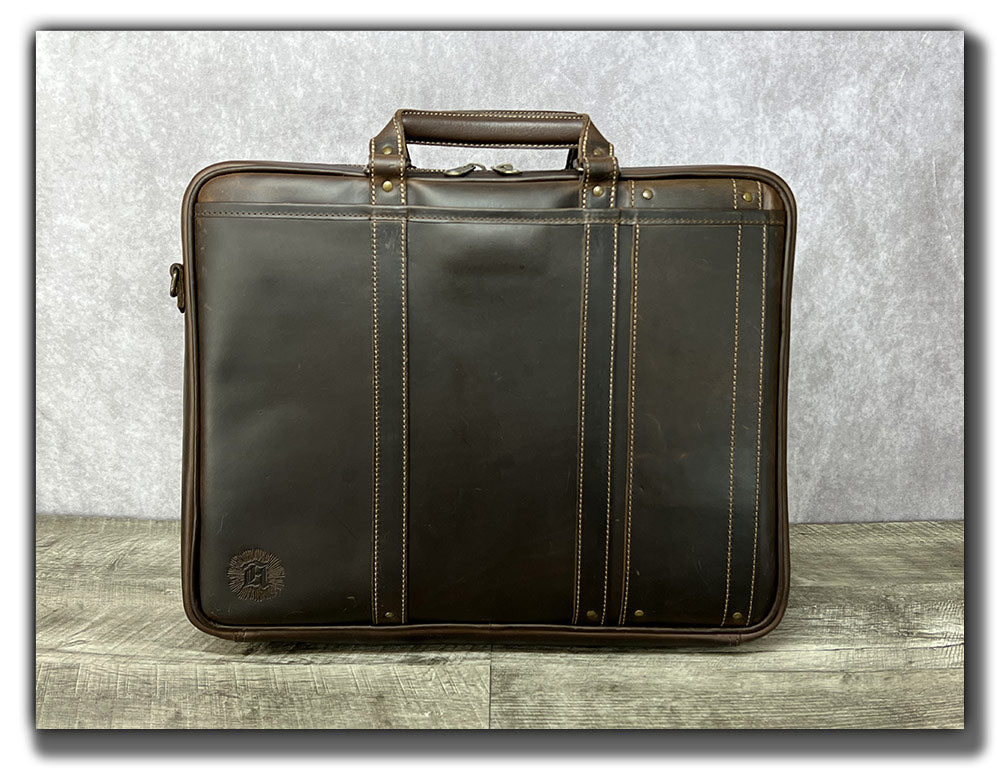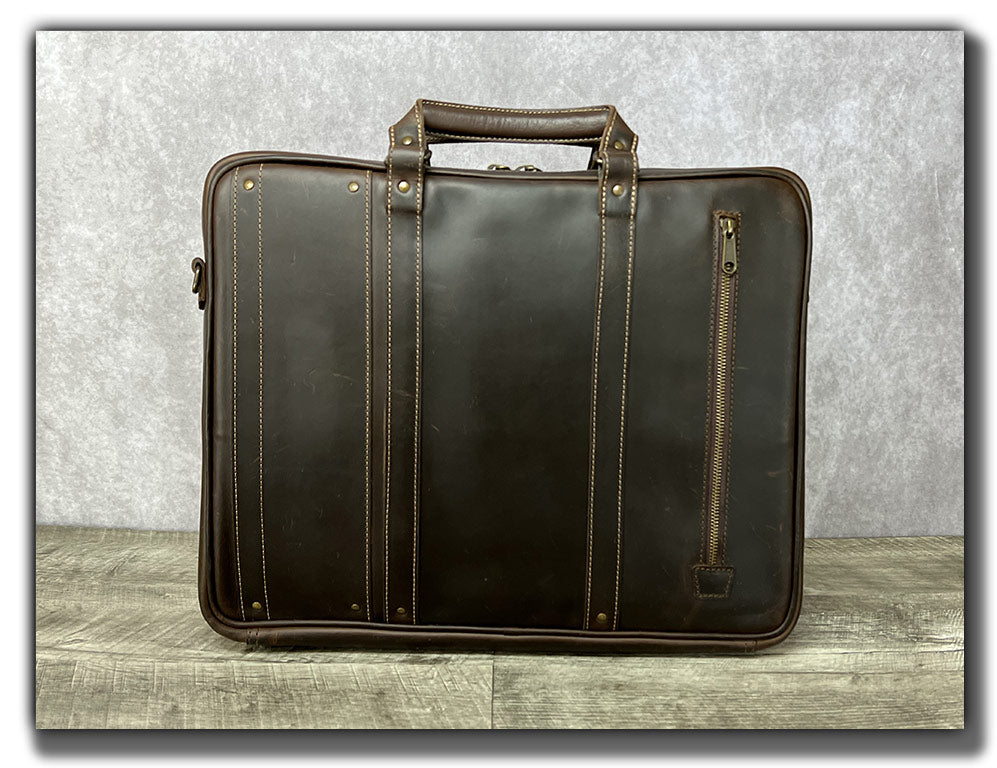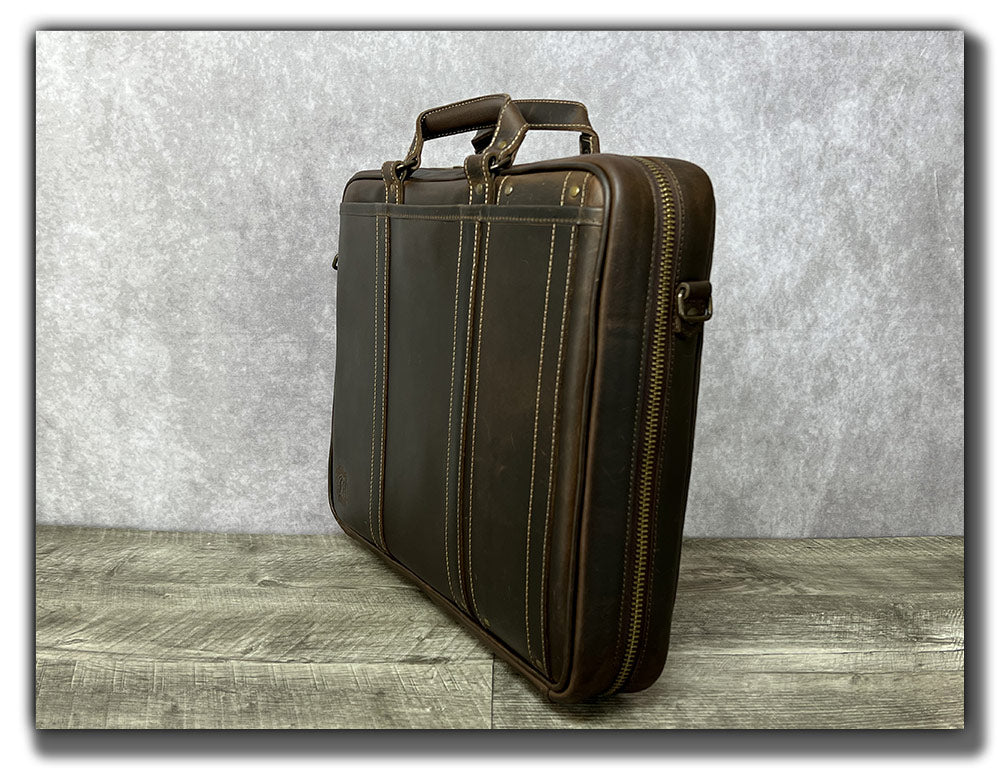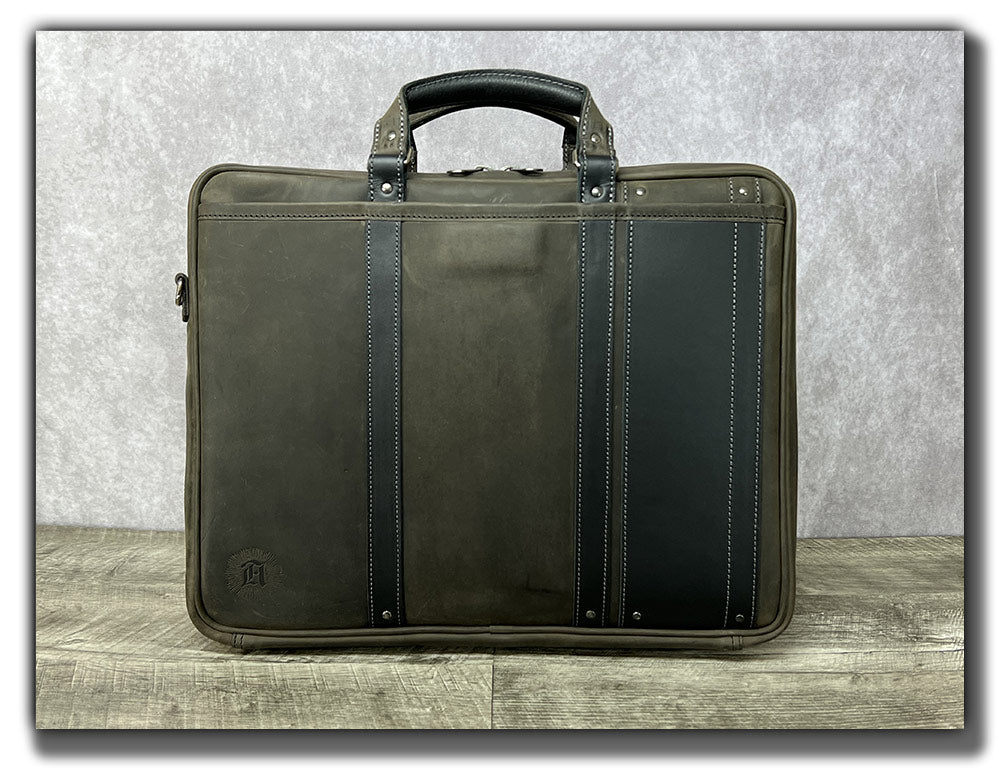 "The Reckoner" Leather Laptop Briefcase
Leather and Hardware:
Carbon Black / Antique Brass
In stock
"The Reckoner" Leather Laptop Briefcase
To one degree or another, we all participate in this digital era of gadgets. You would have to live pretty deep in a dark cave not to appreciate at least some of the conveniences. Still, all the hyper-connectivity of this not-necessarily-so-brave new world also brings with it a lot of conformity. We may populate the fields, but the parameters are typically pre-set.
And that just triggers our seditious urge to break from the assembly line. The laptop has become standard issue for rigid day trippers and free-spirited musicians alike, but where is it commanded that the way we carry it must be uniform, with all those tedious, personality-free slabs of black neoprene and Velcro? The first hot rods started as standard Fords before they were radically modified — tricked out largely by restless World War II vets who'd developed mechanical skills with Uncle Sam and didn't particularly want to ride like average Joes back home. Well, in that vein, the creative inspiration for The Reckoner came from the Bonneville Salt Flats, where a handful of dedicated, brilliant maniacs still push the limits to break speed records.
Those boundary obliterators are just cut from a different cloth, and the original body of The Reckoner was designed to convey some of their utterly fearless, hard-driving intensity. No fiberglass replicas here.
The Reckoner will accelerate with age to a deeper perfection while all those electronic gizmos and conventional bags invariably become obsolete and junked.
To us, that's a beautiful thing. We are not interested in the drab and disposable. Inspired by the defiant individuality and ingenuity of authentic American traditions like the classic hot rod, we built The Reckoner to last and be noticed.
The refined look and feel of the re-designed "The Reckoner" leather laptop briefcase delivers all the standard features your day demands but in a sleek profile. Crafted with rich full grain leather and a minimal aesthetic, this laptop bag dresses up just as well with a tweed suit as it does paired with some jeans. If you aren't very familiar with full grain leather and the quality of Anthology Gear workmanship, you can trust that "The Reckoner" is a worthwhile long-term investment as it will likely be the last laptop case you ever need to purchase. This is the kind of heirloom you hope your dad passes down to you.
Features:
• Fits laptops up to 17".
• Exterior constructed with the most durable, highest quality full grain leather that burnishes and beautifies with age.
• Interior lined with soft and strong pigskin leather.
• Highest industrial grade thread.
• Multiple heavy duty YKK metal zippers add functional beauty. Two-way zipper provides easy access to contents in main compartment with up to 180-degree opening.
Exterior:
• Padded top handle with 4.5-inch drop for comfortable, roomy grip.
• Removable, adjustable padded full grain leather shoulder strap. Long enough to comfortably carry the bag over-the-shoulder or cross-body.
• Quick access large exterior pocket with magnetic closure for phone, boarding pass, ipad, magazine, book, etc.
• Exterior zipper pocket for things you want to keep secured yet close at hand without the need to open the main compartment. Large enough to hold a 12.9-inch iPad Pro.
Interior:
• Plenty of interior space with compartments and pockets to keep things organized.
• Padded compartment for a notebook up to 17". Elastic band gusset opening expands for easy in-and-out of larger laptops. Velcro strip closure keeps the laptop held tight.
• Interior divider for power supply, notebook, documents/sheet music, books, iPad, etc.
• Interior zipper pocket for tucking away important valuables.
• Two smaller pockets with snap closures to keep the little things organized.
• Cable organizer.
• 3 pen loops.
Dimensions (Exterior):
• Height - 13.5in.
• Width - 17in.
• Depth - 3.5in.
FAQs:

How do you know if your laptop will fit?
Laptops are measured in screen size which refers to the diagonal measurement of the screen. A 15-inch laptop has a 15-inch diagonal screen (technically 15.6" corner-to-corner), a 17-inch laptop has a 17-inch diagonal screen (technically 17.3" corner-to-corner), and so on. Our laptop compartment will hold up to a 17-inch laptop. For more practical purposes, it will hold a laptop with a width up to 16" and depth up to 11".

Will this laptop bag fit under an airplane seat?
"The Reckoner" will fit under the seat of most airplanes. However, in the case where under-seat storage is tighter (on commuter planes for example), "The Reckoner" can always be stored in an overhead compartment. The exterior zipper pocket on "The Reckoner" was designed with the airplane traveler in mind so that one can easily access items without having to pull out the laptop bag from beneath the seat. Great for storing e-reader, chargers, book, small snacks, etc.
"Excellent design. Visual appeal. Sturdy as hell construction (hell is sturdy I suppose). Thick, beautiful leather. 38 rivets. A darn cool name. Loads of space for your laptop and music gear, or any other gear for that matter. The Reckoner Laptop Bag from Anthology Gear Wear has all of these features with more to boot. Does BestLeather recommend this bag? Oh yes, we do."
~ BestLeather, 2014 (Read full review here.)