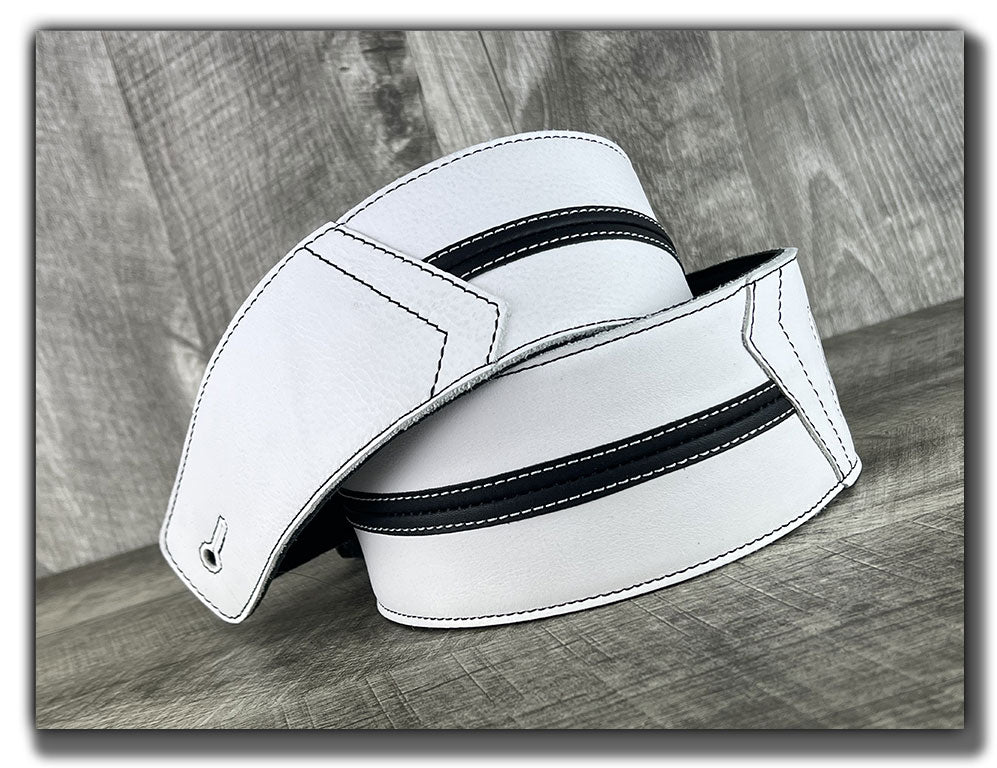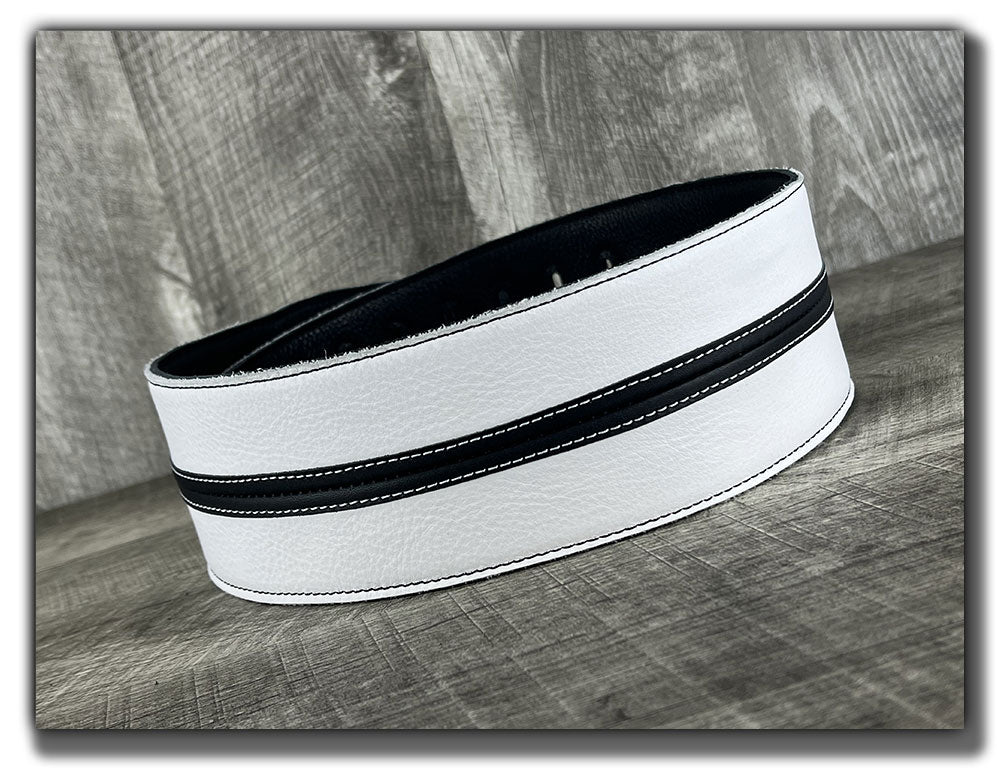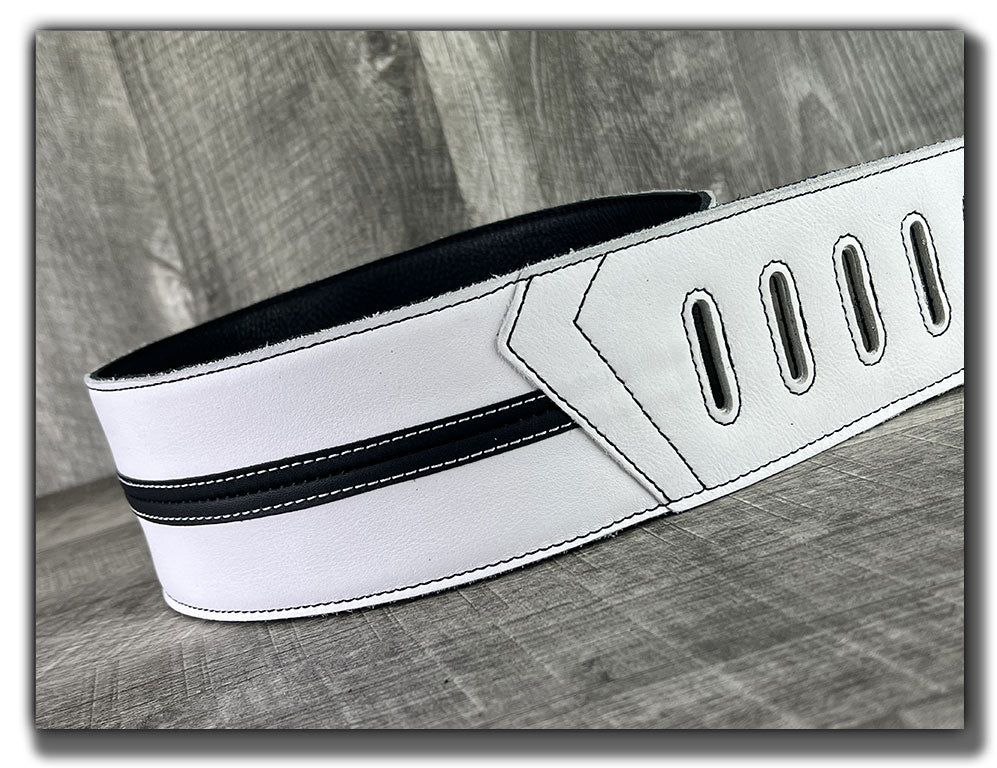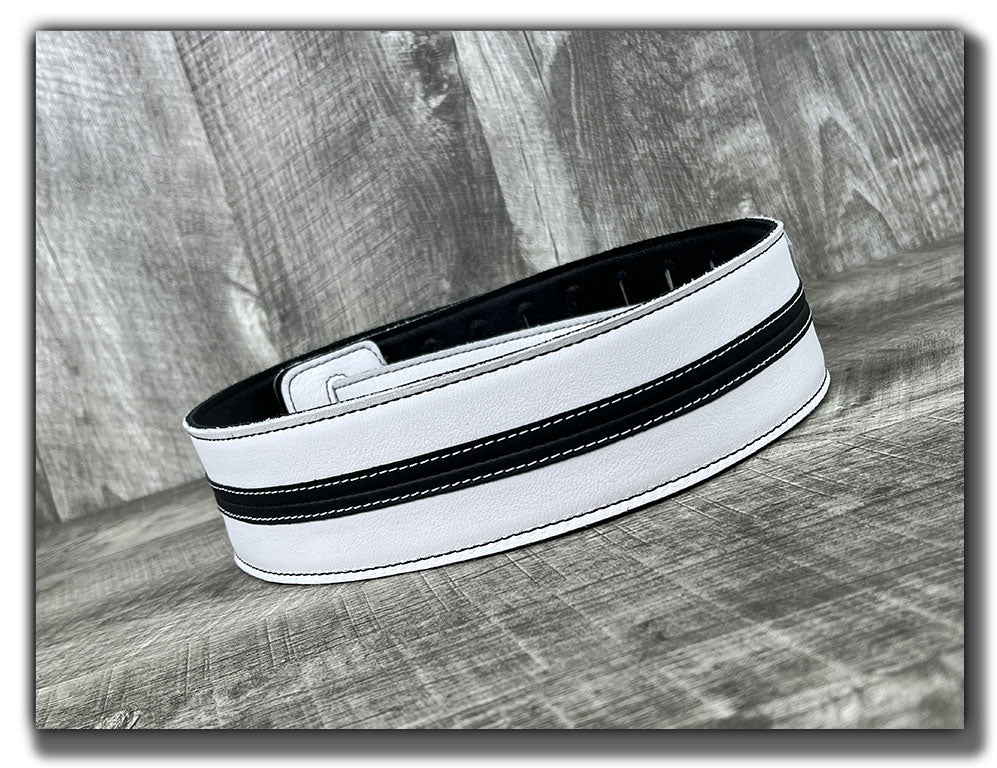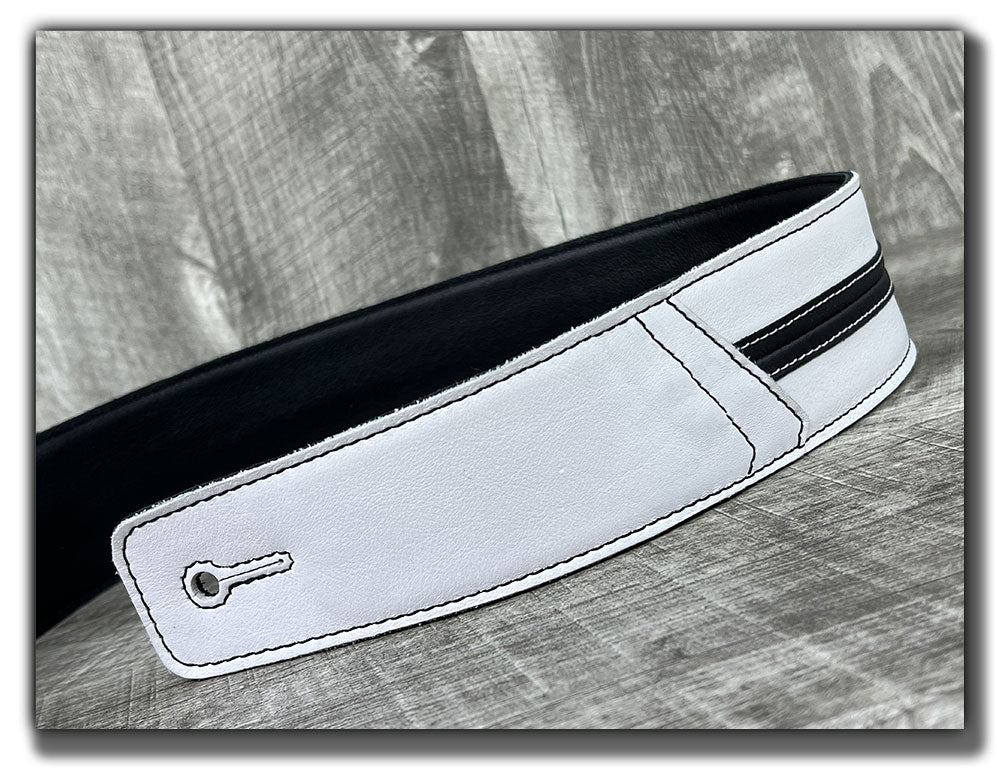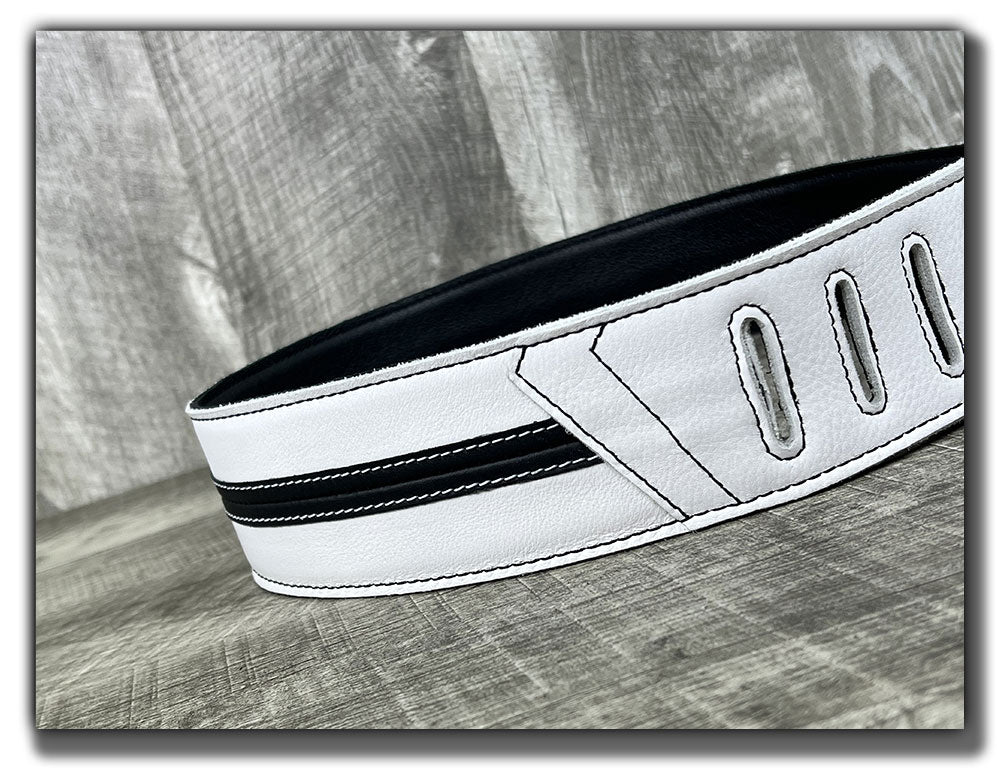 Straight Up - Frostfire White with Black Stripe Leather Guitar Strap
Straight Up
It's about more than just substance over style.
To me, substance is style. And I need mine straight up. I want to see and feel the proverbial natural wood grain, not have those precious imperfections buried under some glossy varnish or slick paint job.
Sure, I can appreciate Phil Spector's Wall of Sound, but too many misguided people have since taken those walls and built a prison around the essence of music with one big, overproduced, sterile Pro Tools assembly line.
In my book, lifeless digital perfection has become the greatest imperfection, with hype and all the sonic trends du jour just more planned obsolescence. The expiration dates keep coming faster and faster.
Hey, don't get me wrong. I'm not trying to climb on a high horse or tell anyone else how to live. I'll leave that gig to the marketing executives. But, for my money, it's the paths away from all the frills and ringtones that are worth traveling. In what I put out and take in, I'm after timeless quality.
Give me core components. Give me raw analog purity. Give me roots music. Give me something that skilled, dedicated human hands labored over and real sweat poured down on, whether a well-crafted tune or a custom-made guitar. Give me Wilco. Give me Keith Richards — on his acoustic. Give me Frank Sinatra in a small room with one mic, warm acoustics, and a little cigarette smoke.
Style is what you can do with less anyway. Anyone can put on a $5000 Armani suit. But look at James Dean in jeans and a plain white t-shirt. If you want to hear straight up style, well, no one with a top-of-the-line Strat and all the effects pedals in the world has yet to surpass what some of the original blues players could transmit through a busted, homemade, out-of-tune guitar.
That's why we're still listening to their scratchy recordings and probably always will be — there's soul in simplicity and enduring power in the authentic.
And newsflash: there's no ham in Spam and no humanity in Auto-Tune, folks.
That's why I close my eyes to the packaging, to all the gimmicks and hollow obsessions with appearances, and just tune into sublime unprocessed sounds ringing true.
Straight up — no chaser.
GUITAR STRAP WIDTH:
Available in 2" and 3" width
We offer a 2" width for those looking for a more streamlined look. If you're looking for the most comfortable strap, we recommend the 3" width. The 3" does more work to distribute the weight of the guitar.

GUITAR STRAP LENGTH:
Strap adjusts from 39" - 54" (See our blog post for Tongue Tying Tricks)
For a long guitar strap (adjusts from 54" - 63"), add optional Jumbo Tongue (sold separately)

Full Grain Leather  All Anthology leather guitar and bass straps are hand-made with the absolute finest quality full-grain leathers in the world. Our leathers are chosen for their ability to fully distribute the weight of the guitar across the strap, for a more comfortable playing experience on those long gigs.

Your guitar strap may feel a little stiff at first - that's just the thickness and strength of full grain leather. Like a new pair of high quality leather boots, you need to break it in. The more you wear your guitar strap, the softer it will get.

To top it off, our leather burnishes and beautifies with use. All of our leather guitar straps have their natural marks, scrapes and scars, which means they have loads of raw, rugged personality.

Padded for Comfort  Our leather guitar straps are not only great looking, they're also super-comfortable. Between two layers of full-grain leather, we use a high-density, premium padding to maximize comfort without sacrificing strength. Although not as thick as some padded guitar straps out there, our premium padding will not break down over time. We give the guitarist the best of both worlds, a streamlined padded guitar strap. Comfortable and durable with style!

Industrial Grade Thread  Even better, we use only the strongest industrial grade threads, the same threads used to make parachutes and airbags. That's strength you can trust.

Satisfaction Guaranteed  All leather pieces offered by Anthology are protected by a 30-day full satisfaction promise from the date of delivery, which guarantees a full refund as long as the product is returned in new and unused condition. All leather pieces have a 25 year warranty against all defects in materials and workmanship.
What's the Right Guitar Strap Length?
If you're buying as a gift and don't have access to measure the current strap, or you just can't wait until you get home to take the measurement, there are several factors to consider:
The main functional issue with respect to buying a guitar strap online is getting the length right. Our straps are measured from attachment hole to hole. The best way to determine your ideal length, or that of the musician you're buying for, is to measure the previous strap. If you don't have a strap to reference for whatever reason, we've assembled some general guidelines for length (supplemented with this friendly disclaimer: if you find our standard strap is too short, you can always add a jumbo tongue).
Elements to consider:
1. Player height and weight:
• In general, players who are 6' and under, and average weight, should be fine with a standard length strap.
• Players over 6', or with more weight, could use a jumbo tongue.
2. Electric or acoustic:
• Because acoustic guitar bodies are deeper, guitar players 5'10" and over will likely prefer a strap with the jumbo tongue.
3. Placement of attachment pegs:
• The strap attachment peg on the guitar can be in a couple of places. On some guitars the peg is at the top of the bout; on others, it's placed where the guitar neck meets the body of the guitar. In the case of the latter, a few more inches will be needed, and a jumbo tongue might be the way to go.
4. How low or high the player holds their guitar:
• If the player is a rocker, with their guitar a bit below the waist, a jumbo tongue might be the way to go.
• If the player holds the guitar from the waist up, our standard length strap should do the trick.