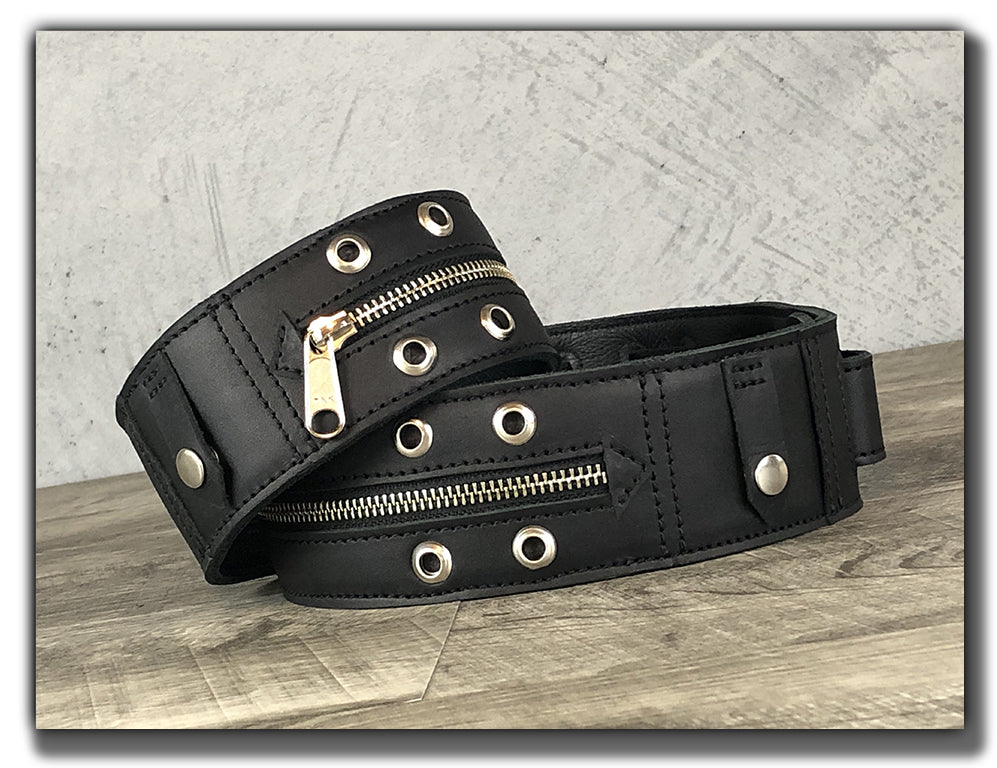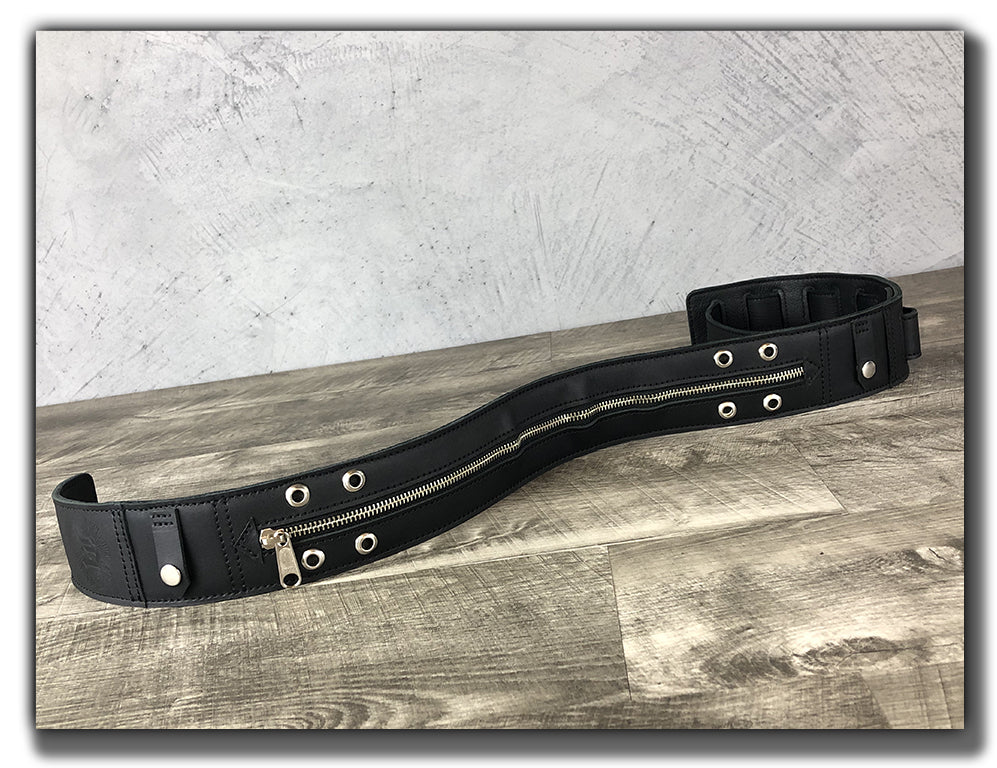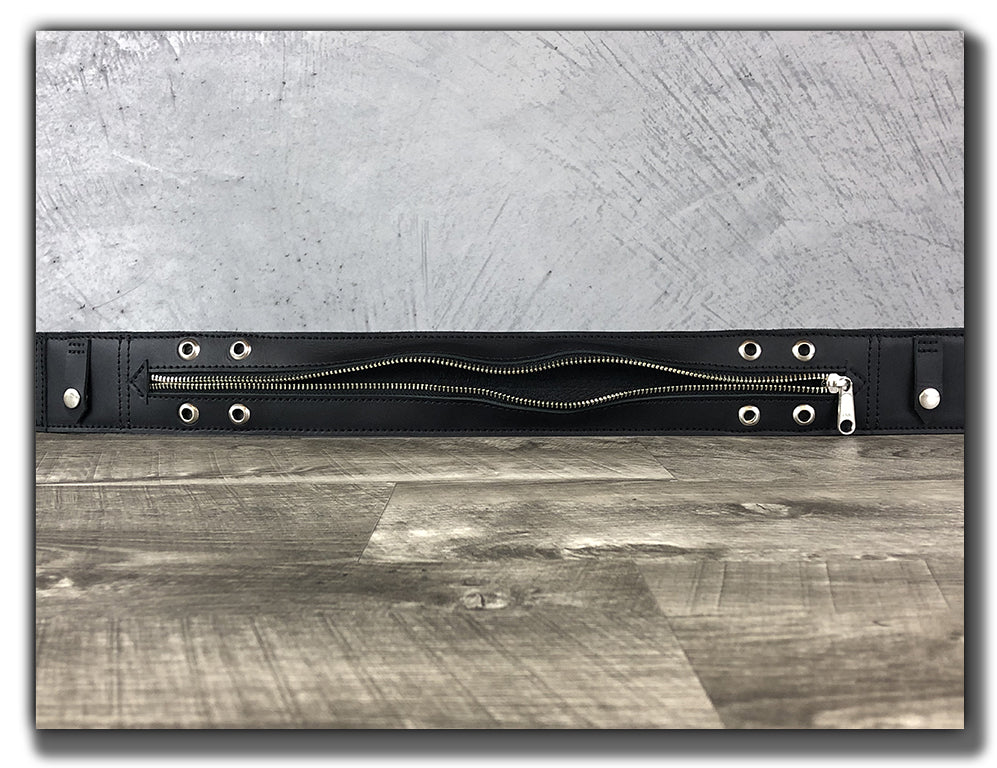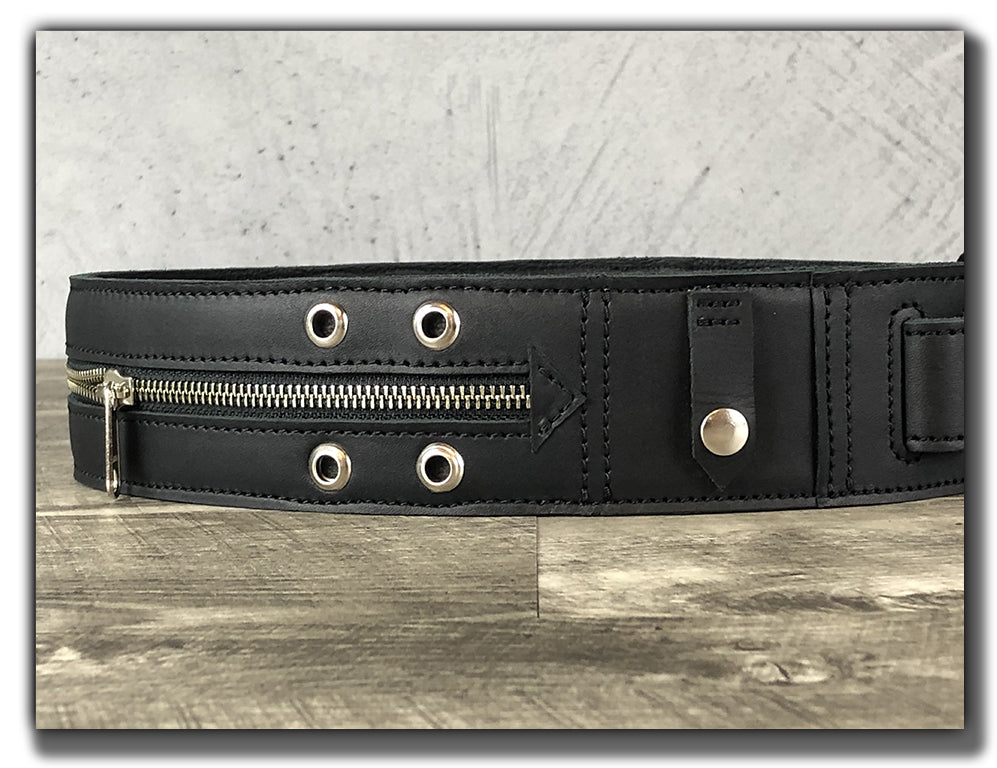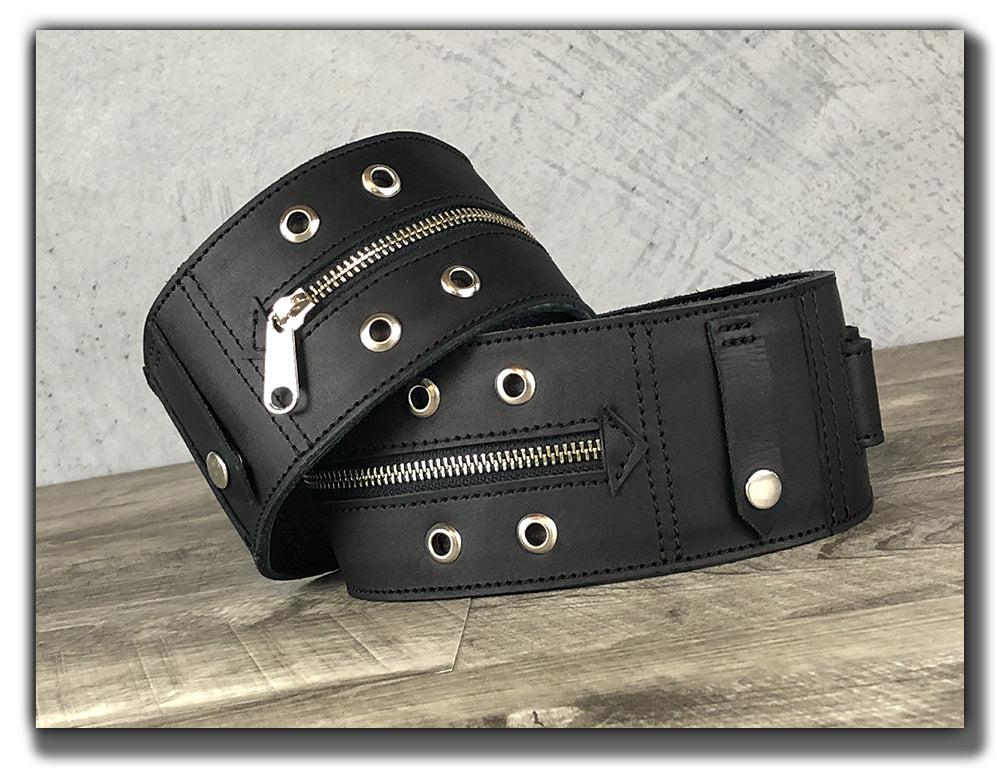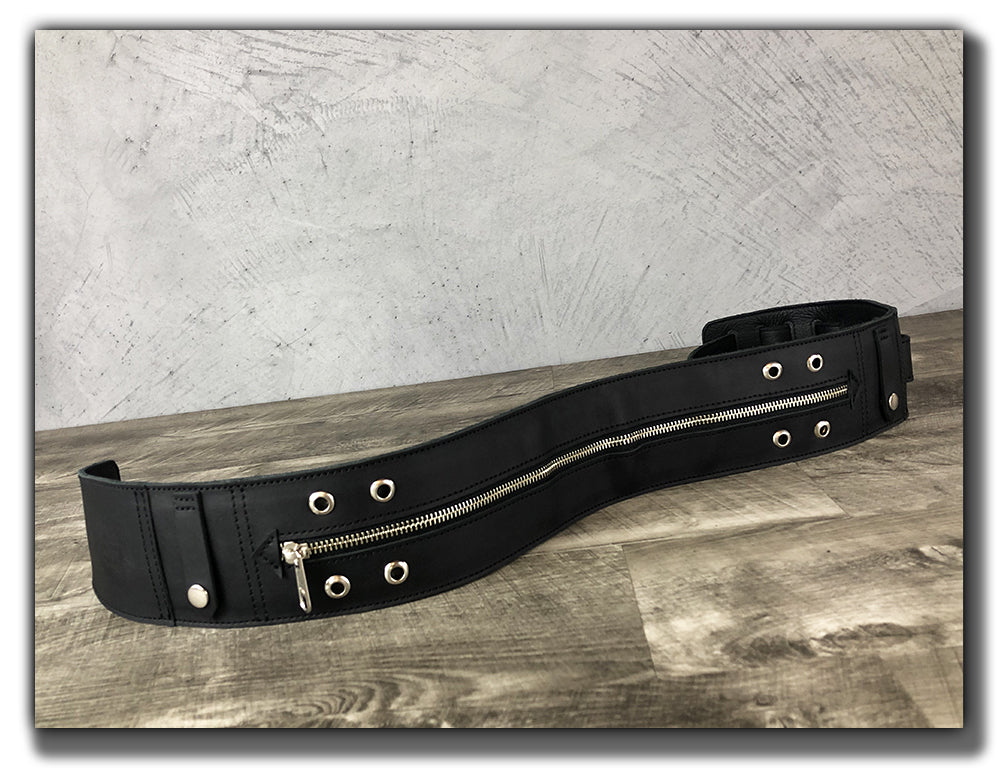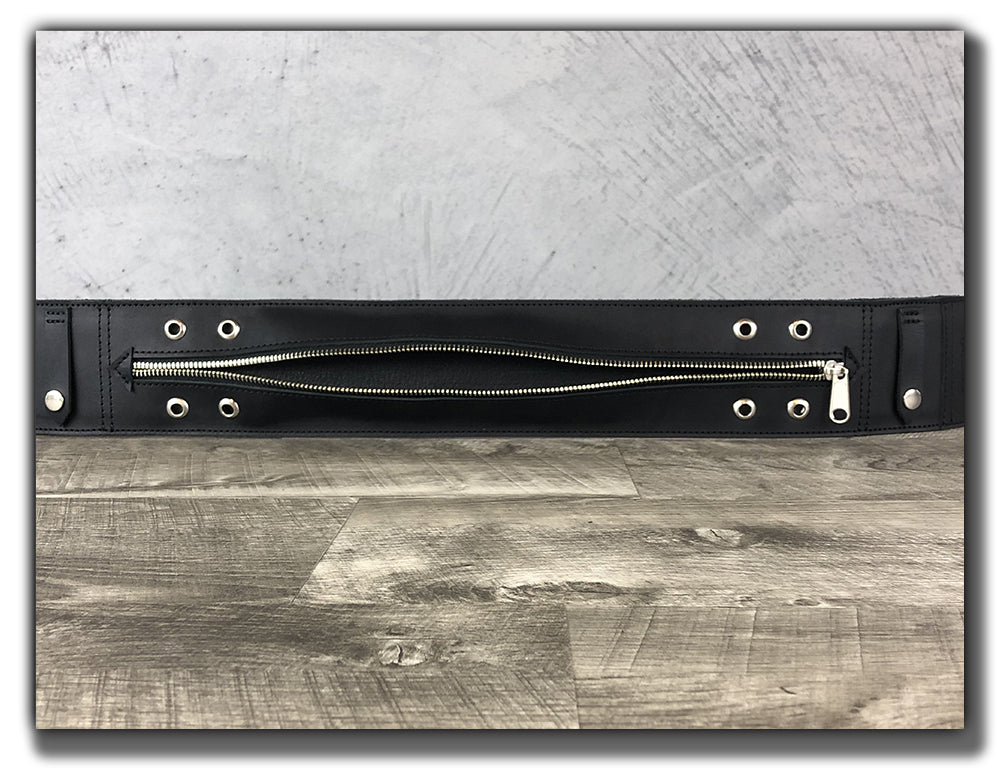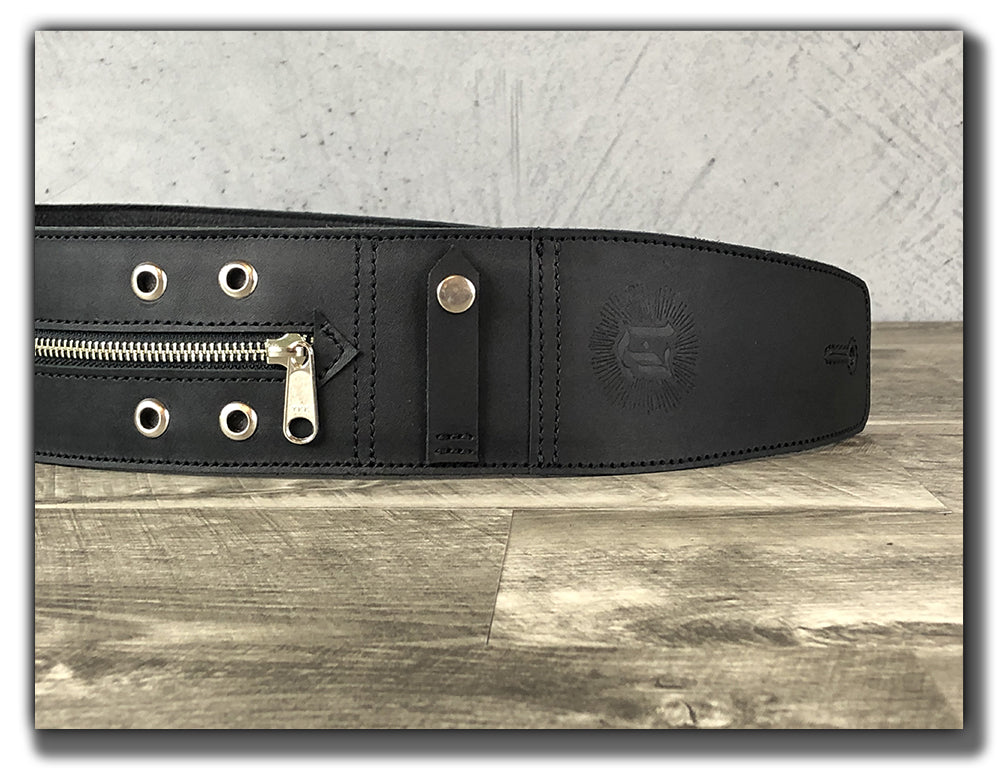 The Brat - Leather Guitar Strap
The Brat
You would swear the Bowery, boulevard of broken bums, was wider back then. Wider and darker. A lot darker. Not quite a total wasteland, but a stretch of dingy gas stations and seedy SROs, plus Burroughs still breathing in his bunker, that was more desolate than most can imagine today. The Palace Hotel was certainly no palace, and most definitely not some celeb-studded boutique.
Yet just below that feral flophouse, for exactly two U.S. dollars, you could walk right into CBGB's, past the pinball machine, at the far end of its dark, smoky, acoustically potent tunnel-like interior, and witness The Ramones playing at the height of their power and glory.
Or Blondie. Or the Talking Heads. Or the Dead Boys. Yeah, there's no stopping the cretins from hopping — and who, especially all these years later, would want to anyway?
Such is the spirit The Brat celebrates, with deep roots stretching all the way back to Brando's 618 Perfecto leather jacket. His speed rush came from a Triumph Thunderbird; The Beatles' came from Prellies, the black market weight loss pills abundant in Hamburg in the days before Brian Epstein took away their black leathers and Sid Vicious was only a toddler. By '74, however, rock had become more like some polyester Renaissance faire than a snarling young Elvis or even just digestible, danceable AM pop.
So Joey, Dee-Dee, Johnny, and Tommy came along to lead us back to a better future. By subtracting the glam from the Dolls and the stoned meandering from the Stooges, they set countless others free to make even more from even less. Gabba Gabba Hey.
CBGB's, unlike The Ramones, didn't have a uniform, just the unifying principle of defiant originality. And that's really as punk rock as punk rock ever got. Though when it comes to visually capturing that rebellious, uncompromisingly defiant, anti-mainstream spirit of it all, can anyone blame us for loving some classic Schott?
Classic is key, for The Brat, at its core, is about an ethos that transcends time and genre. Whatever music you play, that motivating force is breaking from the crowd when something truer calls — and the exhilaration of finding it.
GUITAR STRAP WIDTH:
Available in 2" and 3" width
We offer a 2" width for those looking for a more streamlined look. If you're looking for the most comfortable strap, we recommend the 3" width. The 3" does more work to distribute the weight of the guitar.

GUITAR STRAP LENGTH:
Strap adjusts from 39" - 54" (See our blog post for Tongue Tying Tricks)
For a long guitar strap (adjusts from 54" - 63"), add optional Jumbo Tongue (sold separately)

Full Grain Leather  All Anthology leather guitar and bass straps are hand-made with the absolute finest quality full-grain leathers in the world. Our leathers are chosen for their ability to fully distribute the weight of the guitar across the strap, for a more comfortable playing experience on those long gigs.

Your guitar strap may feel a little stiff at first - that's just the thickness and strength of full grain leather. Like a new pair of high quality leather boots, you need to break it in. The more you wear your guitar strap, the softer it will get.

To top it off, our leather burnishes and beautifies with use. All of our leather guitar straps have their natural marks, scrapes and scars, which means they have loads of raw, rugged personality.

Padded for Comfort  Our leather guitar straps are not only great looking, they're also super-comfortable. Between two layers of full-grain leather, we use a high-density, premium padding to maximize comfort without sacrificing strength. Although not as thick as some padded guitar straps out there, our premium padding will not break down over time. We give the guitarist the best of both worlds, a streamlined padded guitar strap. Comfortable and durable with style!

Industrial Grade Thread  Even better, we use only the strongest industrial grade threads, the same threads used to make parachutes and airbags. That's strength you can trust.

Satisfaction Guaranteed  All leather pieces offered by Anthology are protected by a 30-day full satisfaction promise from the date of delivery, which guarantees a full refund as long as the product is returned in new and unused condition. All leather pieces have a 25 year warranty against all defects in materials and workmanship.
What's the Right Guitar Strap Length?
If you're buying as a gift and don't have access to measure the current strap, or you just can't wait until you get home to take the measurement, there are several factors to consider:
The main functional issue with respect to buying a guitar strap online is getting the length right. Our straps are measured from attachment hole to hole. The best way to determine your ideal length, or that of the musician you're buying for, is to measure the previous strap. If you don't have a strap to reference for whatever reason, we've assembled some general guidelines for length (supplemented with this friendly disclaimer: if you find our standard strap is too short, you can always add a jumbo tongue).
Elements to consider:
1. Player height and weight:
• In general, players who are 6' and under, and average weight, should be fine with a standard length strap.
• Players over 6', or with more weight, could use a jumbo tongue.
2. Electric or acoustic:
• Because acoustic guitar bodies are deeper, guitar players 5'10" and over will likely prefer a strap with the jumbo tongue.
3. Placement of attachment pegs:
• The strap attachment peg on the guitar can be in a couple of places. On some guitars the peg is at the top of the bout; on others, it's placed where the guitar neck meets the body of the guitar. In the case of the latter, a few more inches will be needed, and a jumbo tongue might be the way to go.
4. How low or high the player holds their guitar:
• If the player is a rocker, with their guitar a bit below the waist, a jumbo tongue might be the way to go.
• If the player holds the guitar from the waist up, our standard length strap should do the trick.