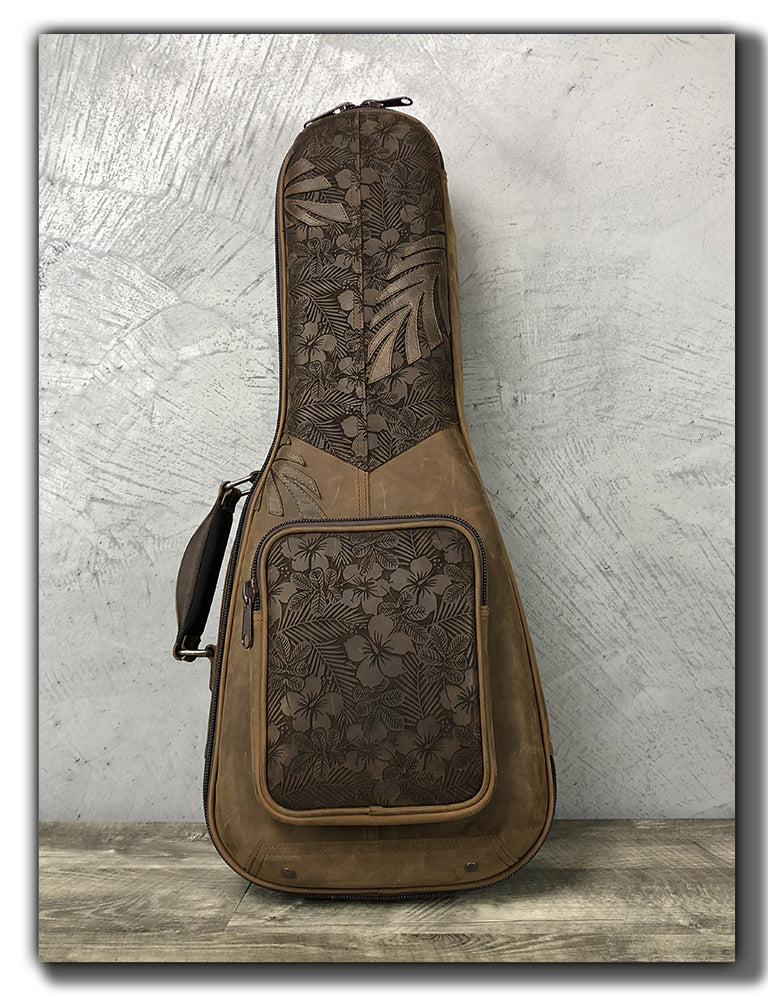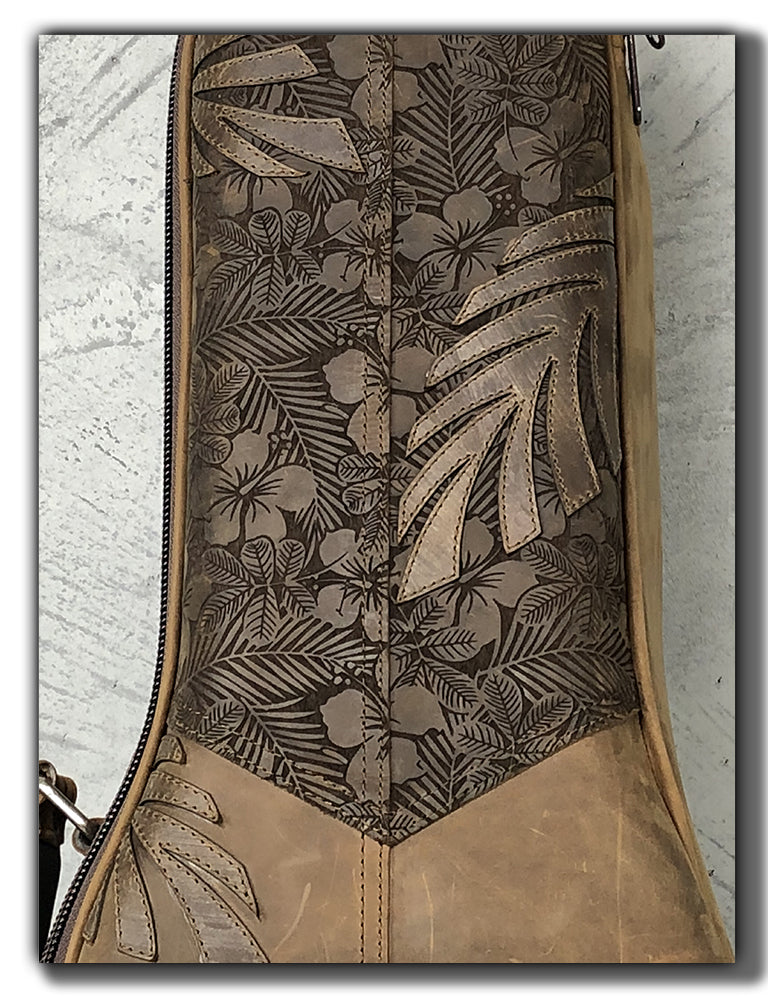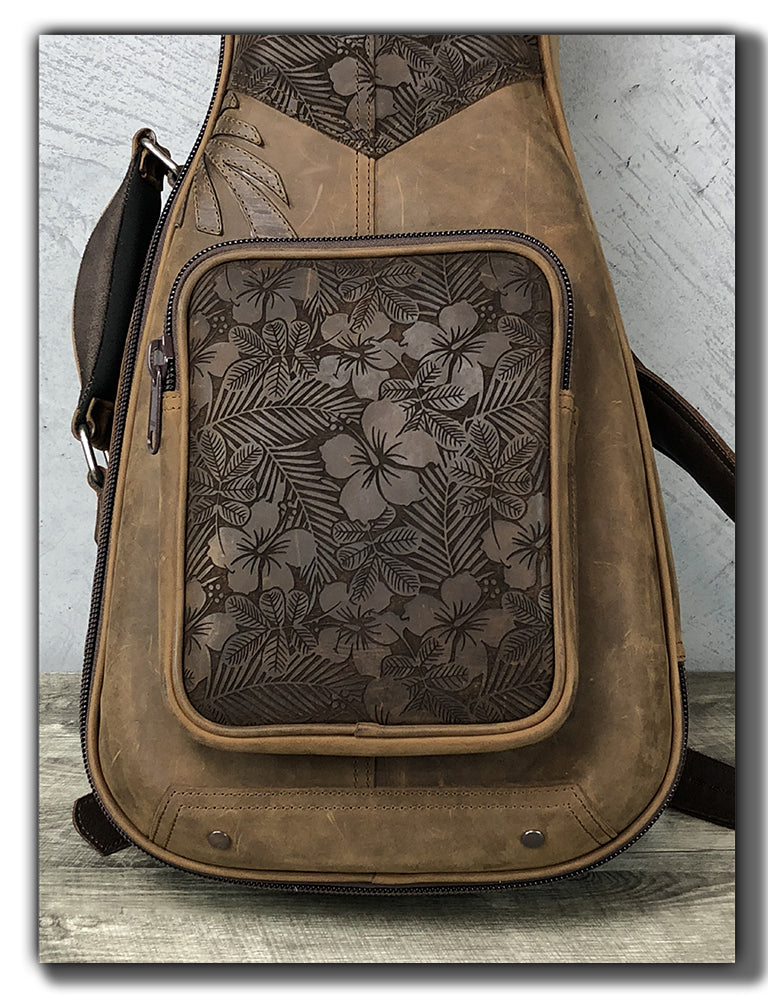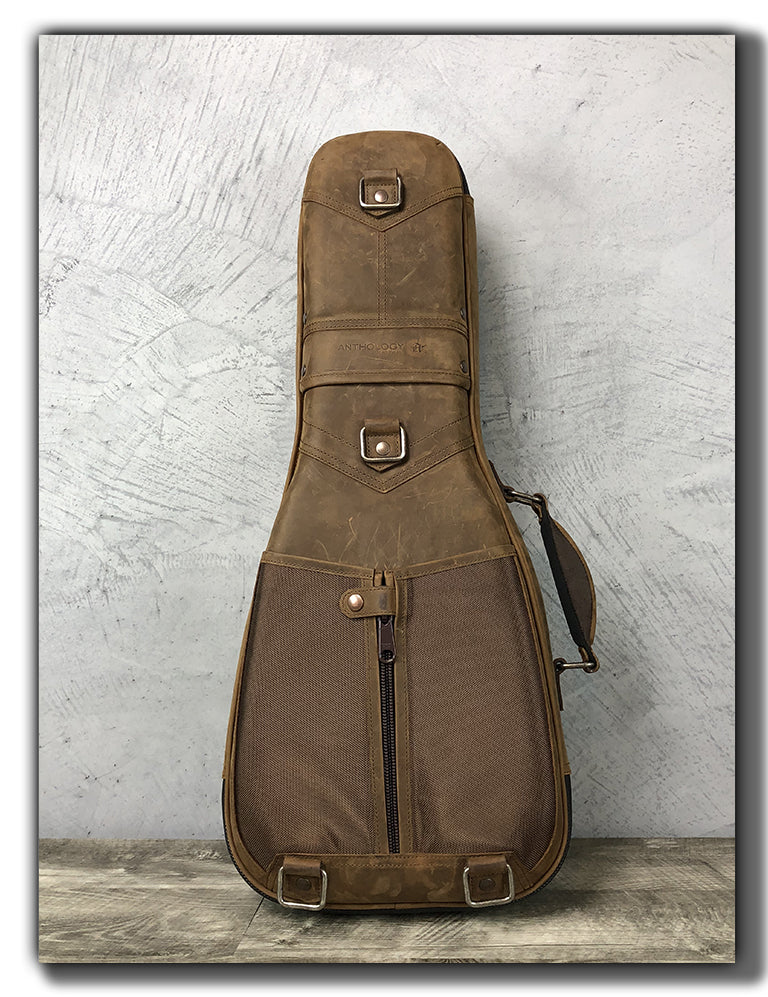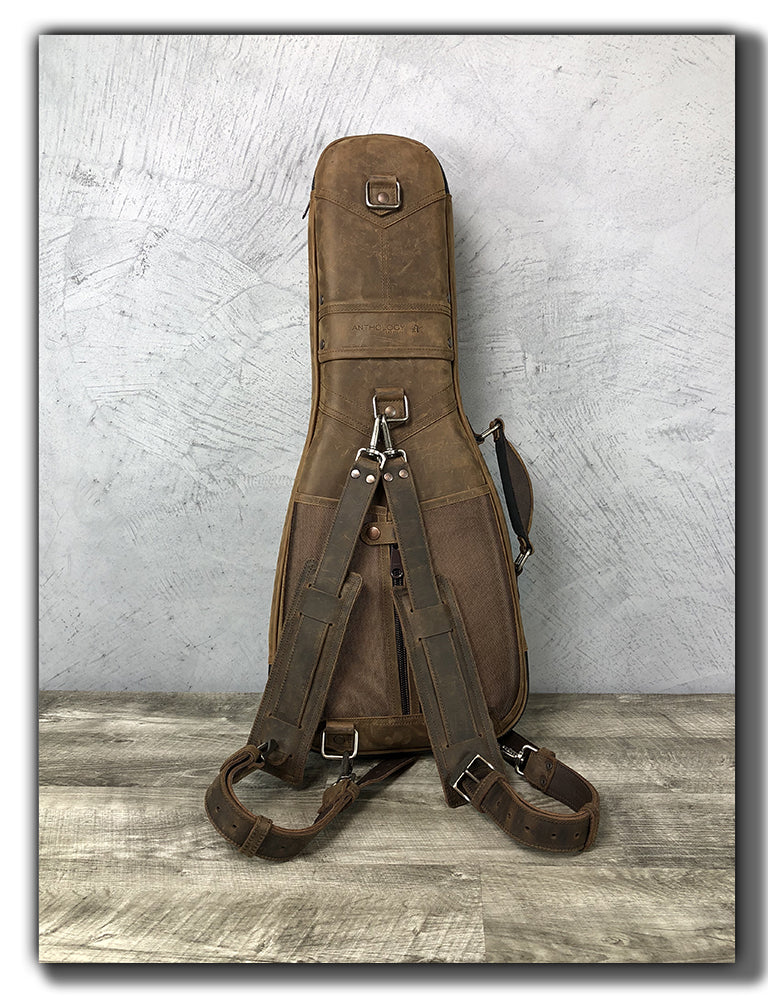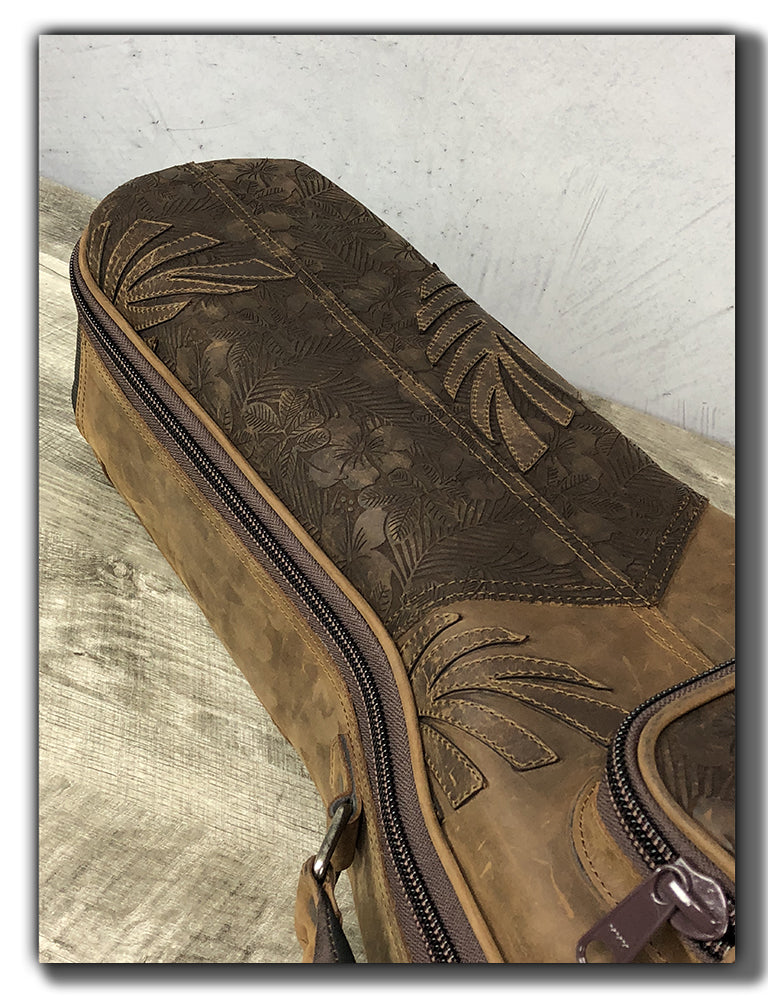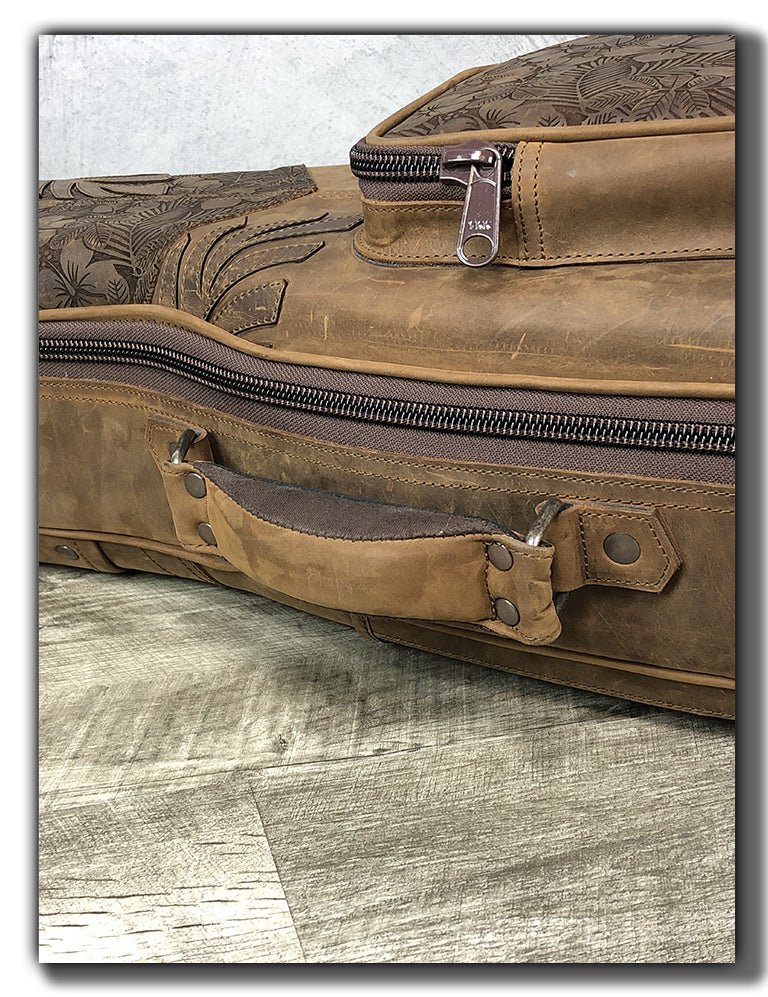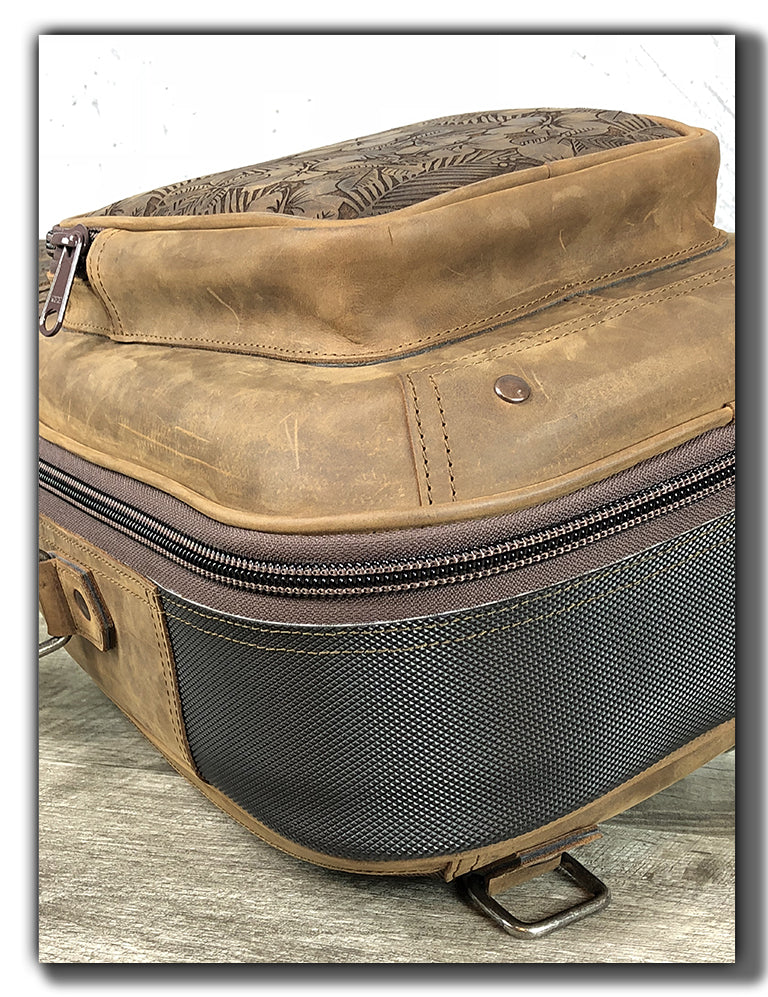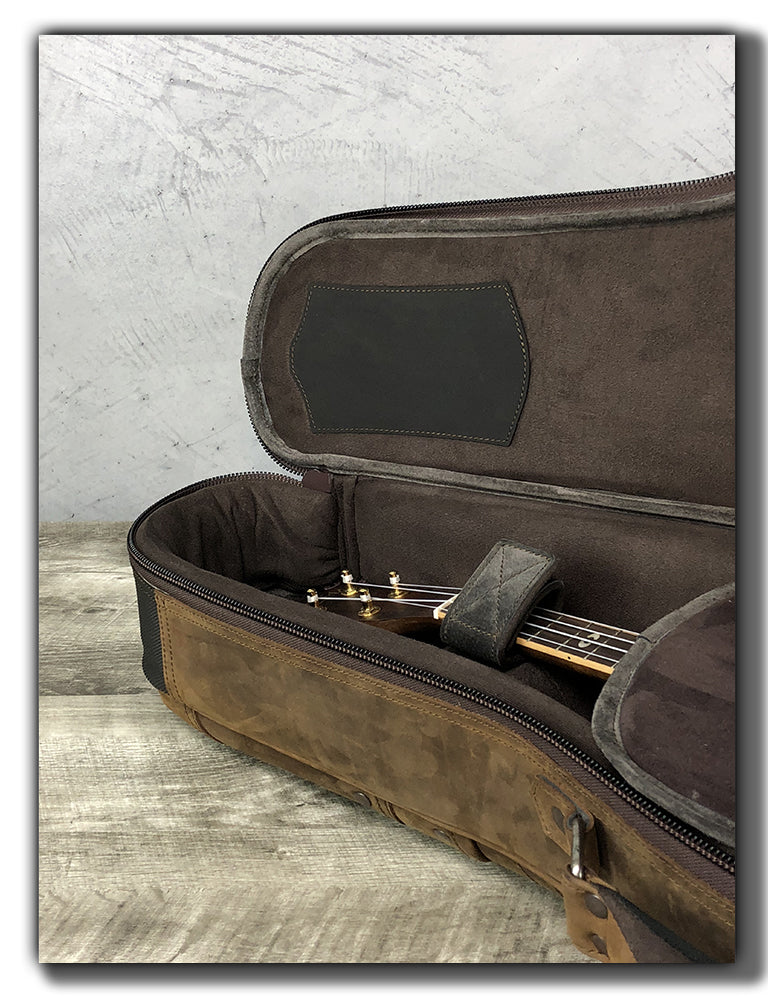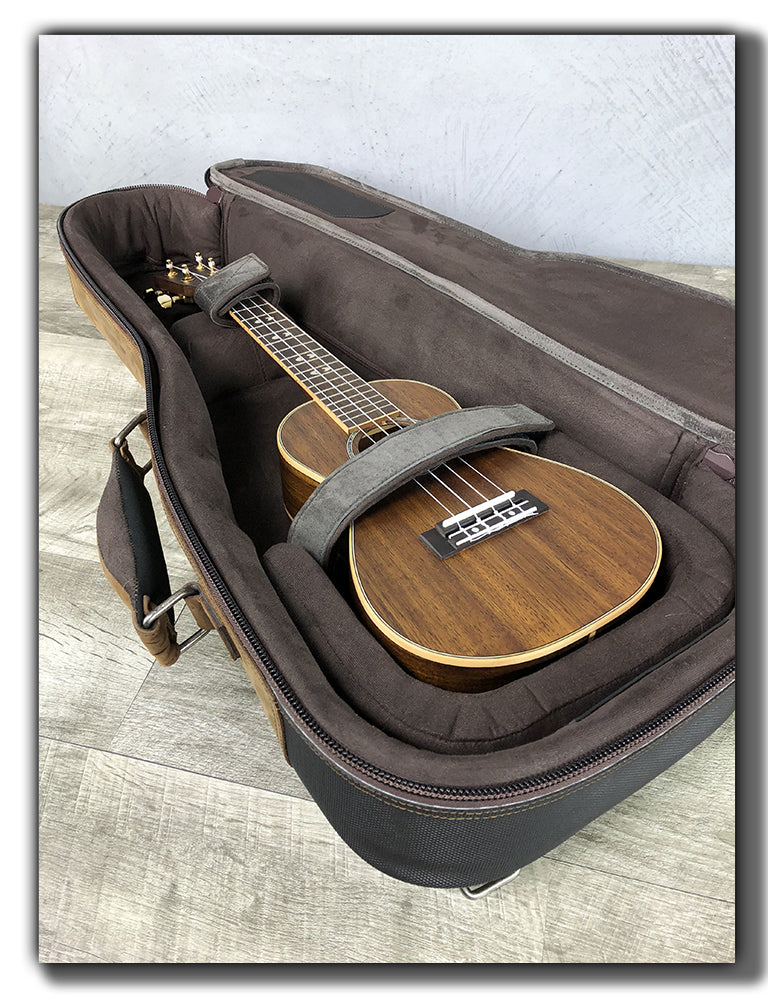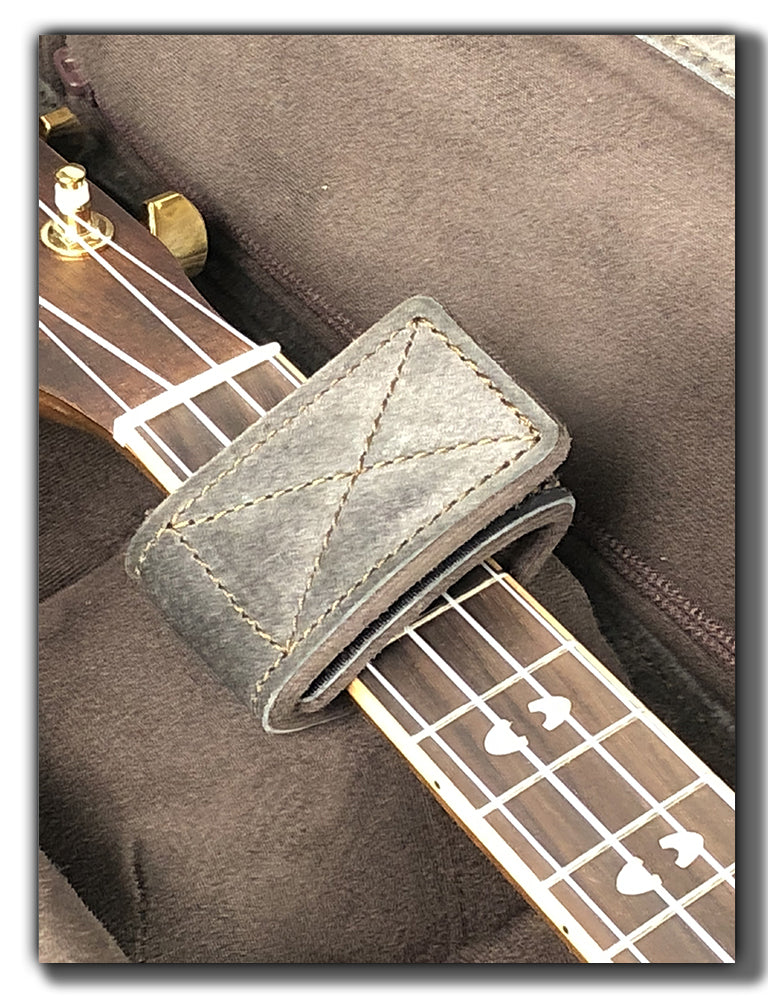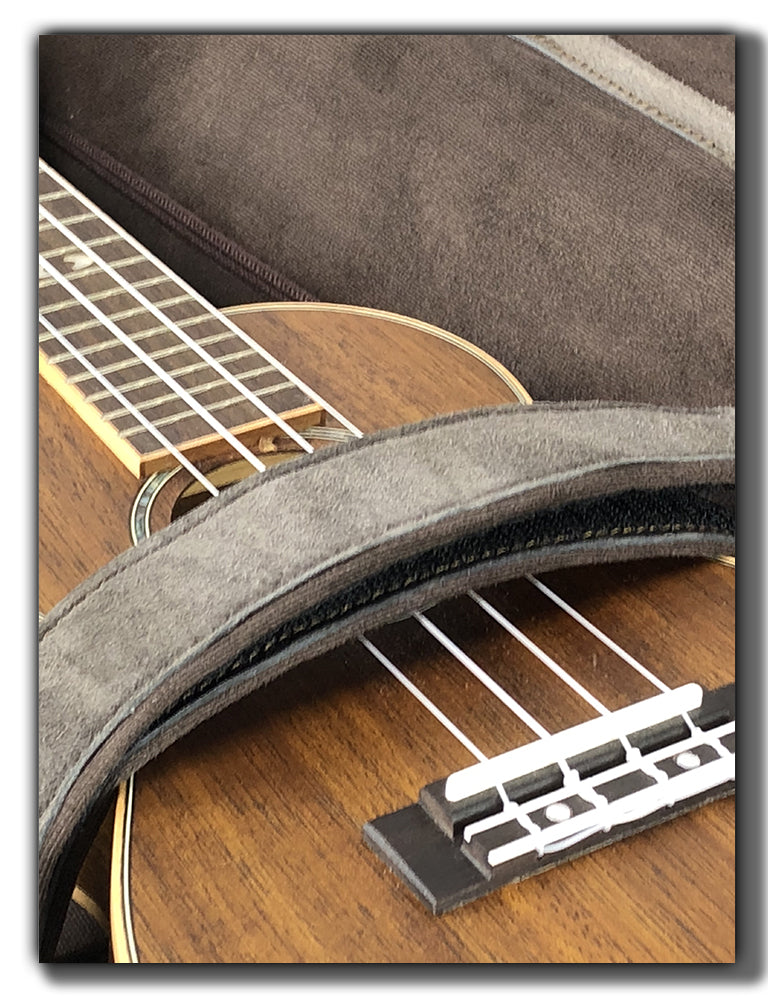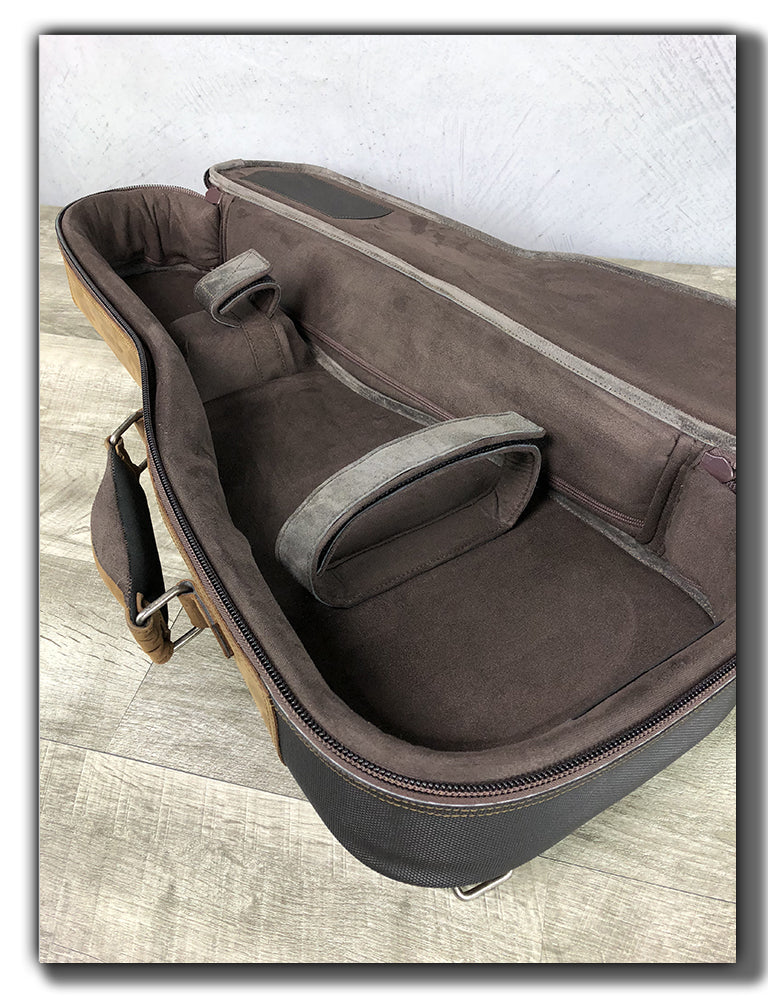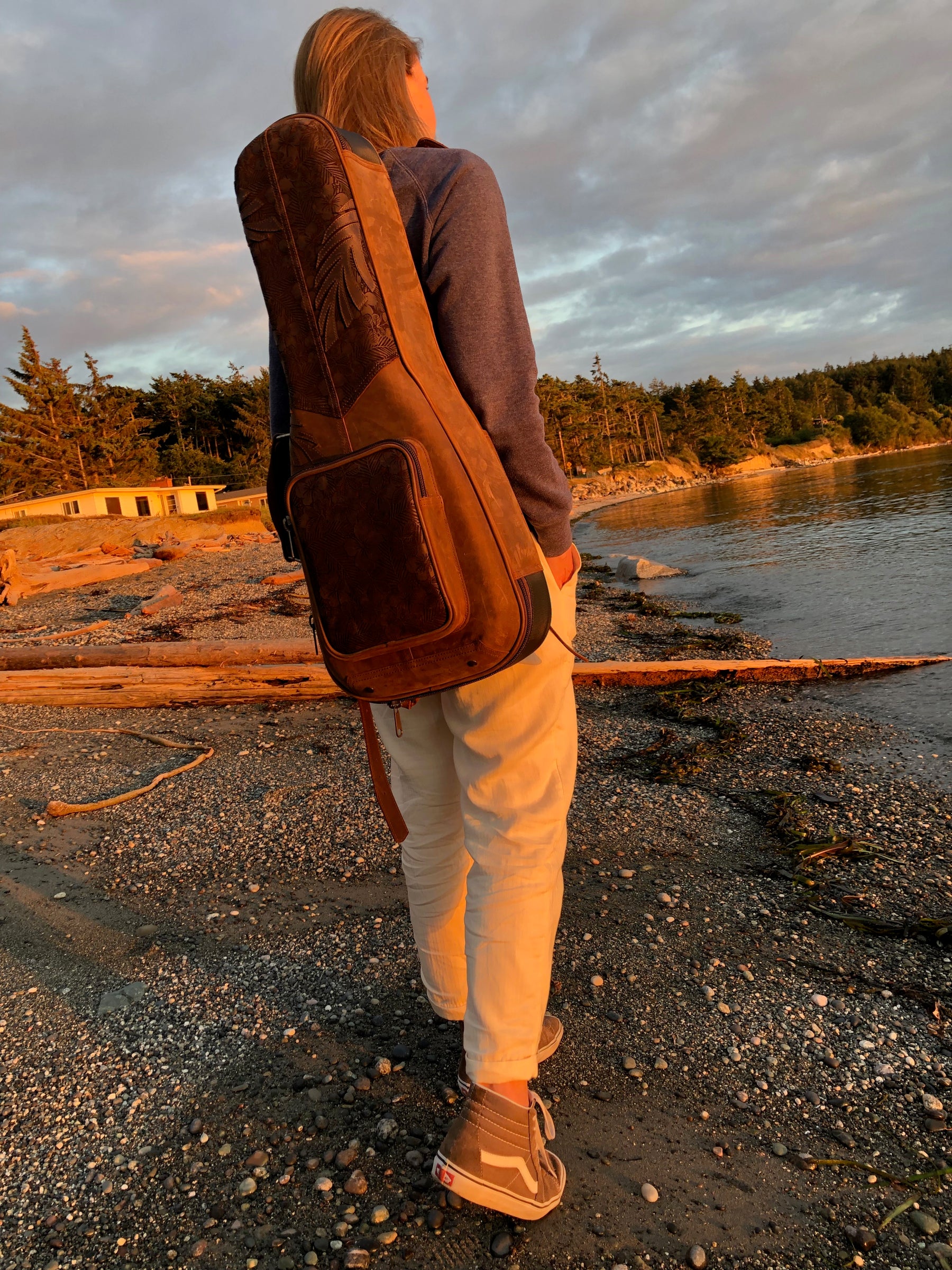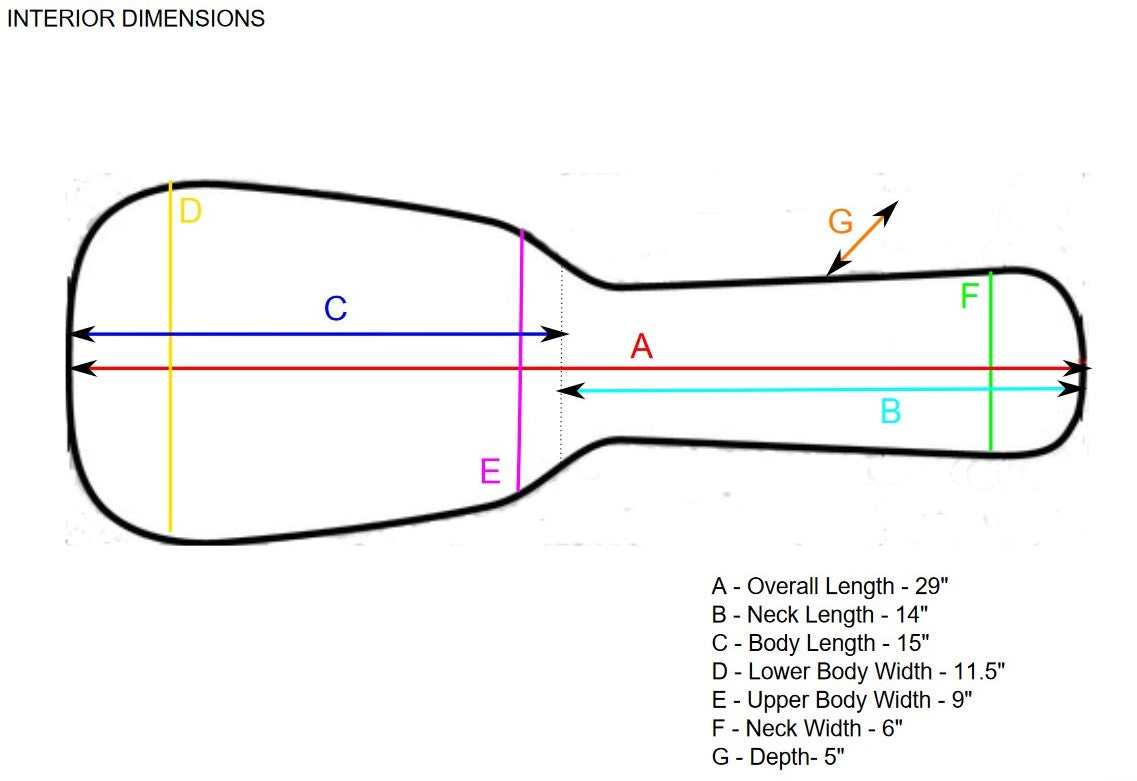 "Iwi" Leather Ukulele Case - Whiskey Brown
Iwi (meaning "shell" in Hawaiian) is a hybrid between a hard shell case and a gig bag, designed to offer total protection of your ukulele with its pliable shock absorbing exterior cage and thickly padded soft interior. Iwi's exterior is made from the highest grade full grain leather and features a stamped Hawaiian floral pattern and overlayed tropical leaves cut from the same high-quality leather. The case is crafted with industrial grade thread and includes rivet support at stress points. An exterior front pocket provides easy-access storage for small accessories or personal items. The padded ergonomic handle is steel reinforced at the body for durability. The case can be carried over-the-shoulder or like a backpack using the two removable padded shoulder straps.
Heavy duty zippers provide access to the inside of the case. The thickly padded soft interior is made from a high-grade, ultra plush suede and includes protection pads at the headstock and tail peg. With the removable contoured padding and stabilizing straps at the neck and body, Iwi can securely hold a soprano, concert or tenor ukulele and smaller-bodied mandolins.
LEATHER UKULELE CASE FEATURES
• Fits soprano, concert or tenor ukuleles and smaller-bodied mandolins
• Thickly padded soft interior with high-grade, ultra plush suede
• Pliable, shock absorbing exterior cage for maximum protection
• Neck support system with stabilizing strap
• Stabilizing strap at body of ukulele
• Extra removable contour padding at base of case provides a snug fit for soprano and concert ukuleles
• Extra removable internal pad that rests on top of the body of the ukulele provides additional stability and protects instrument from accessories stored in the case (also can double as a seat cushion or pillow on those long tours)
• Zippered front pouch
• Padded ergonomic handle, steel reinforced at the body for durability
• 2 padded removable shoulder straps
• Interior protection pads at headstock and tail peg
• Highest grade full-grain leather
• Highest industrial grade thread
• Rivet support at stress points
• Heavy duty zippers