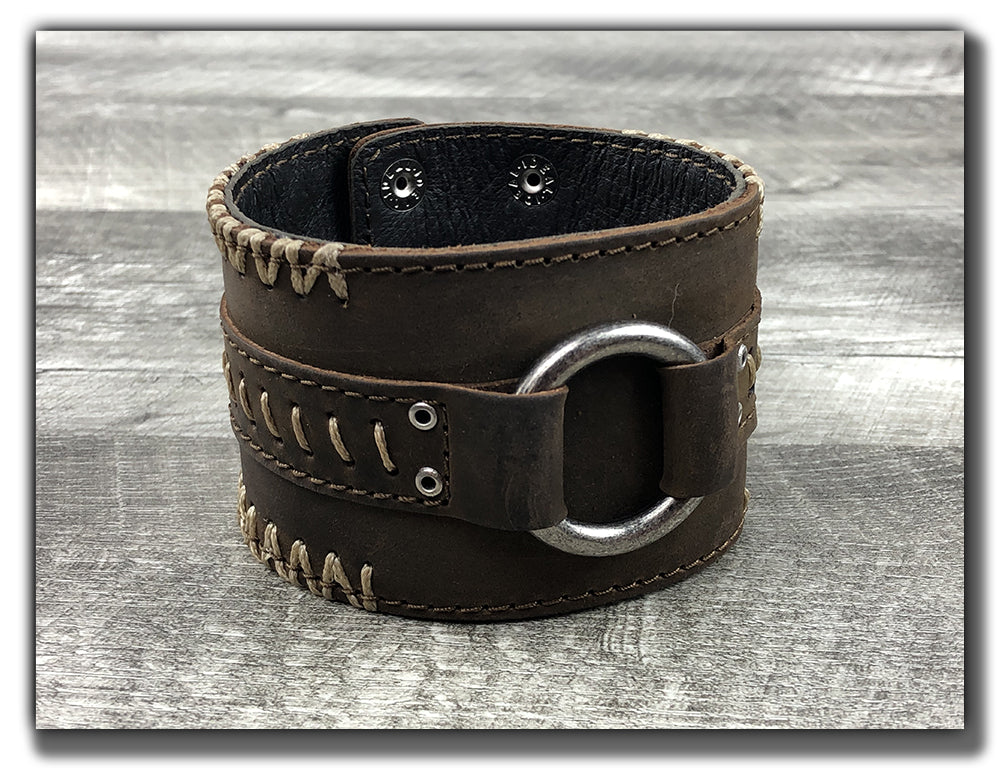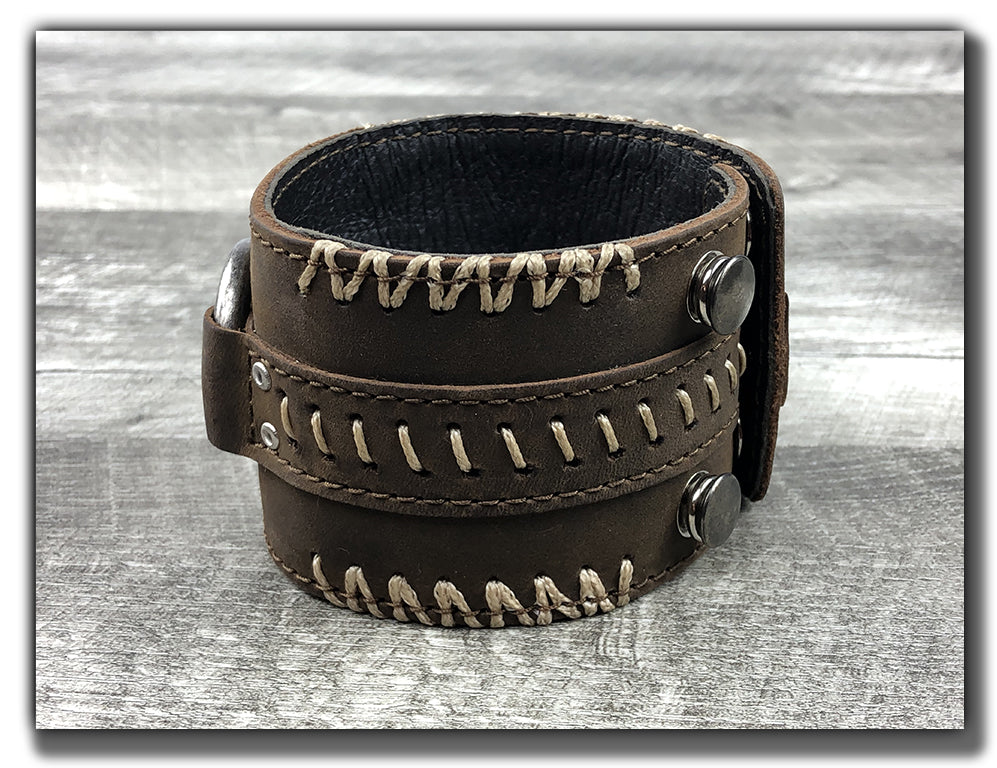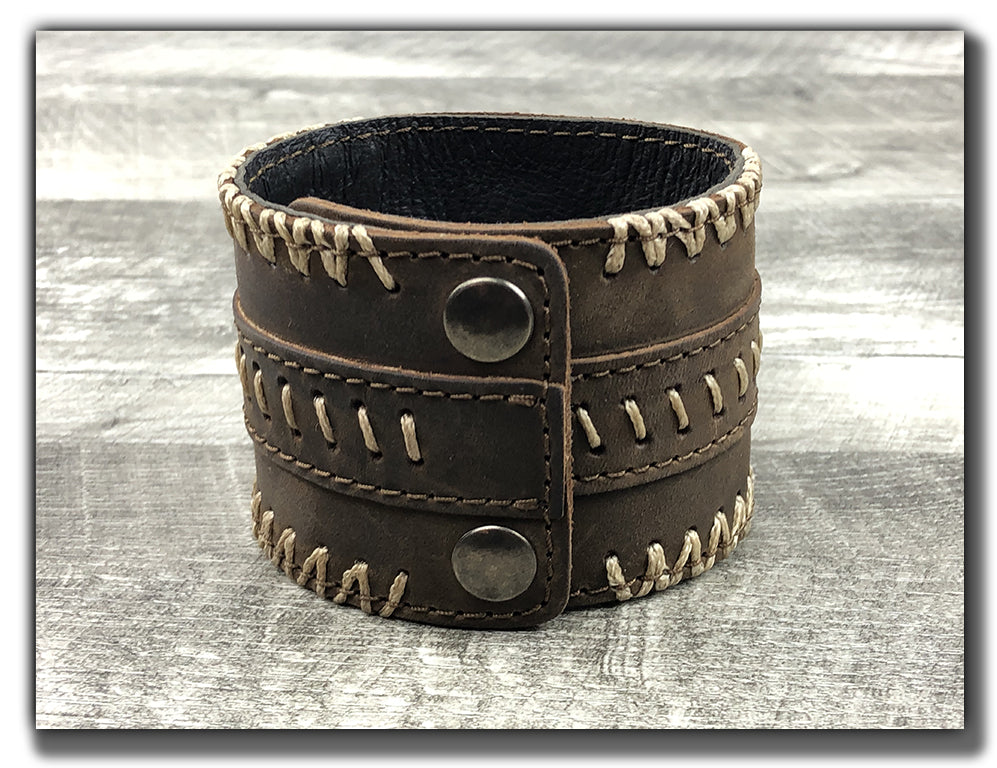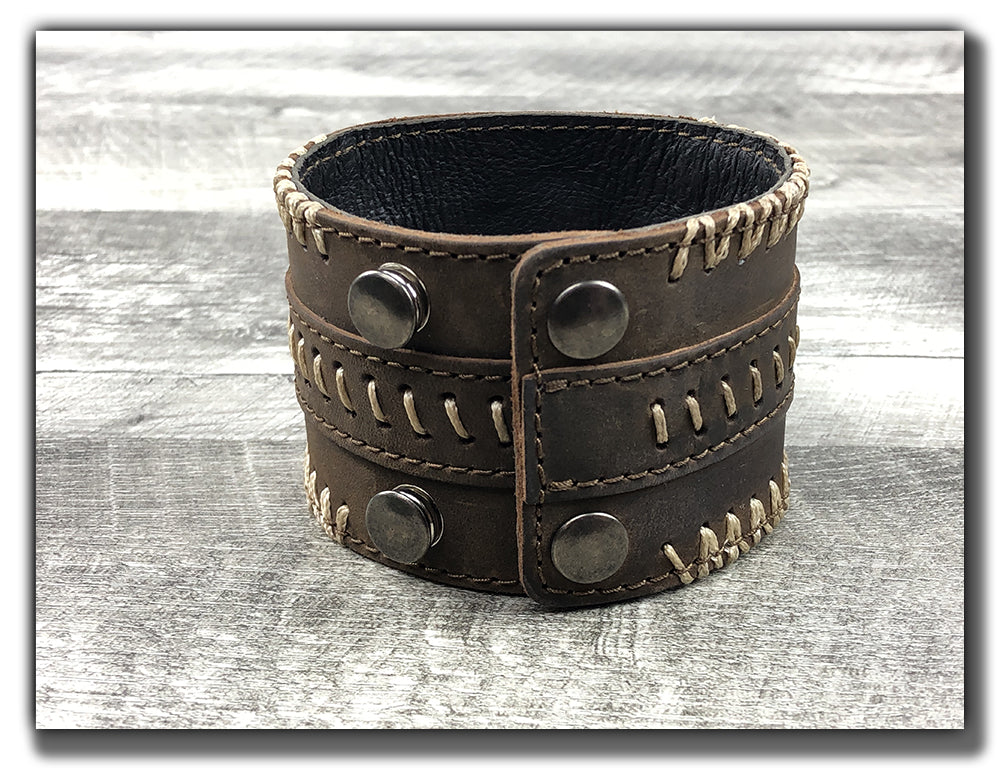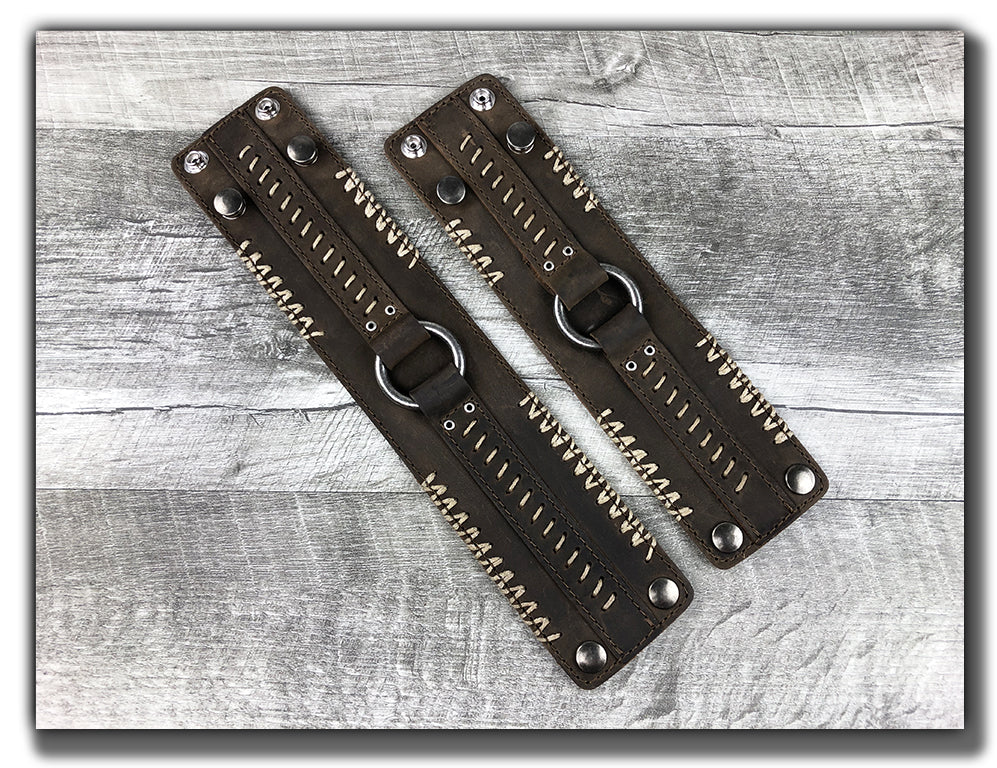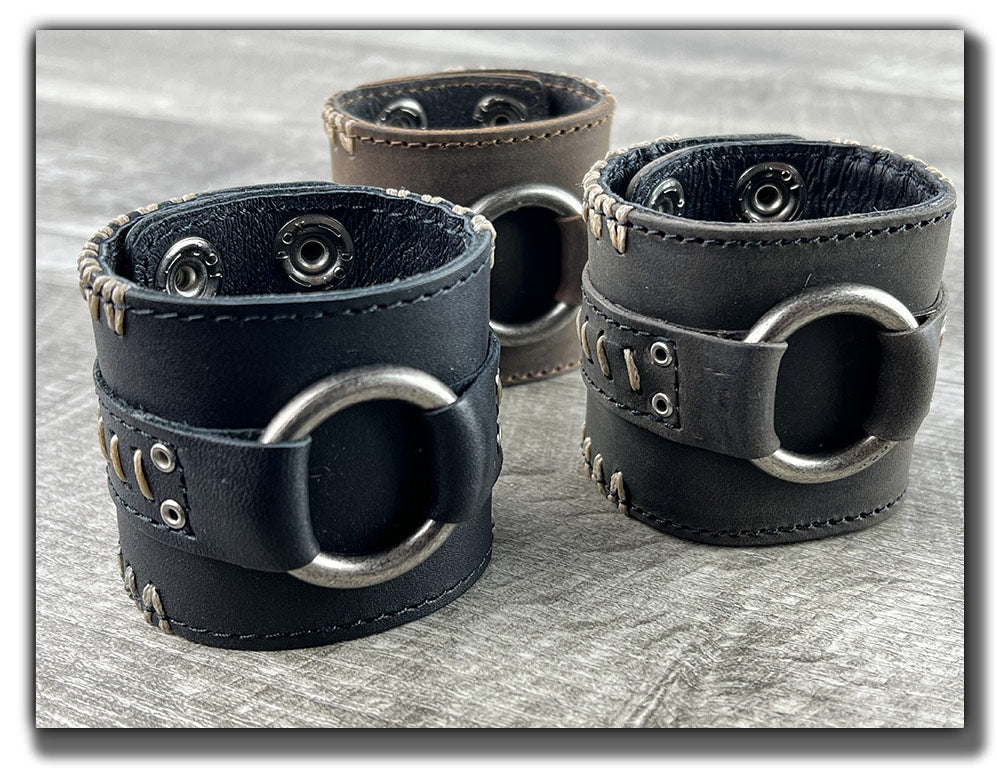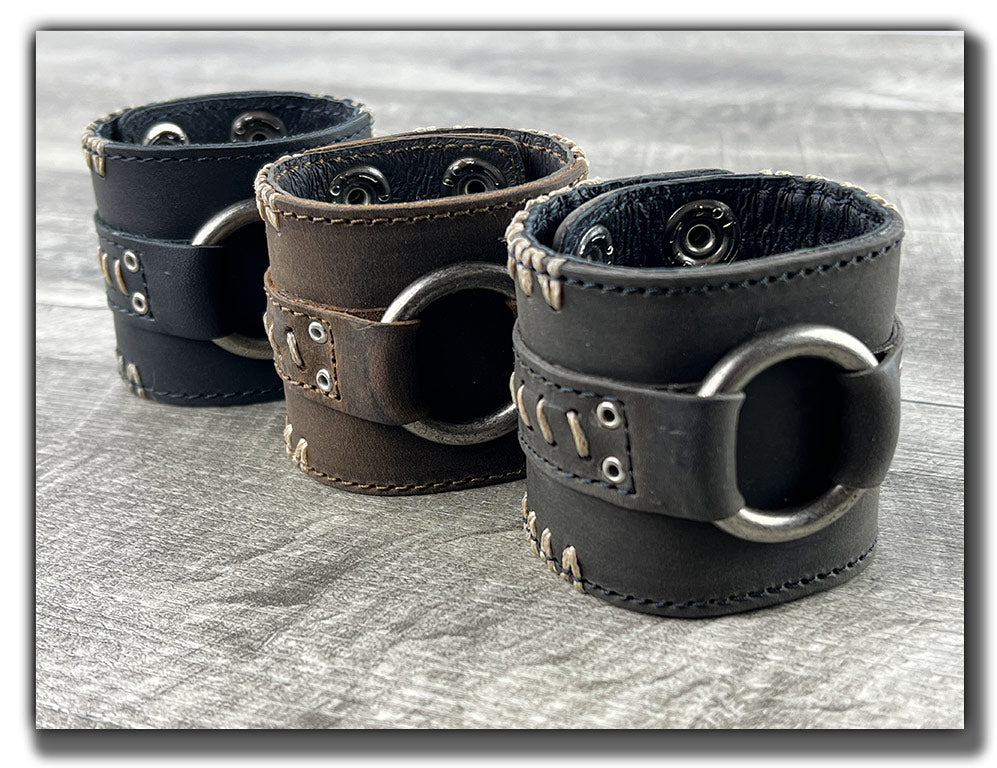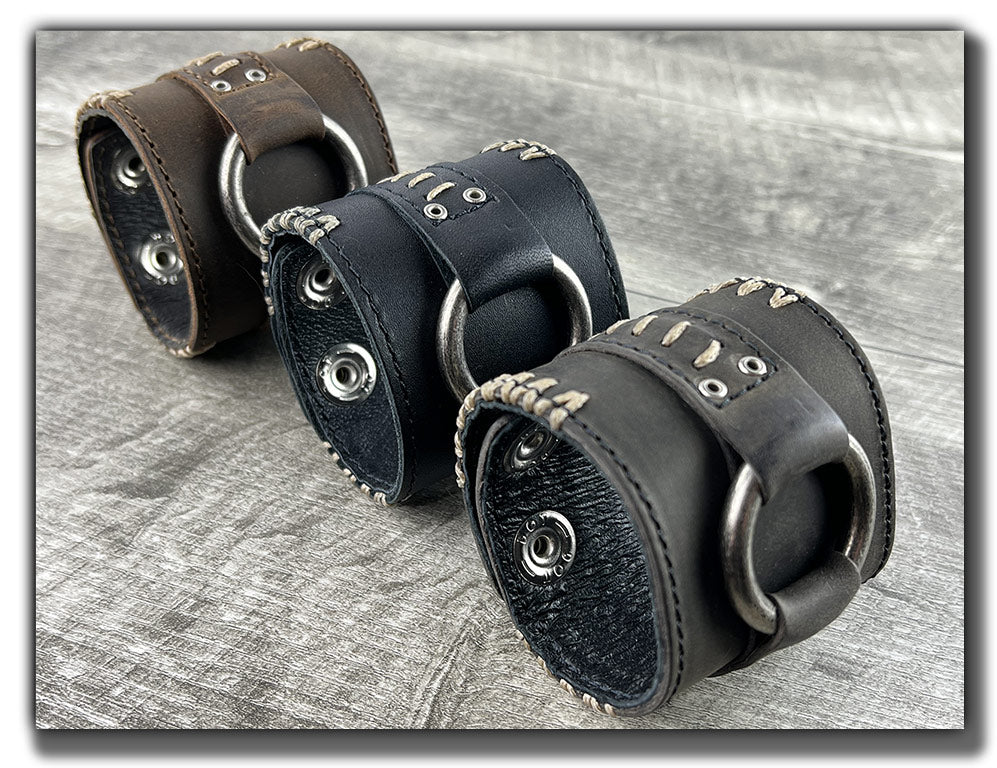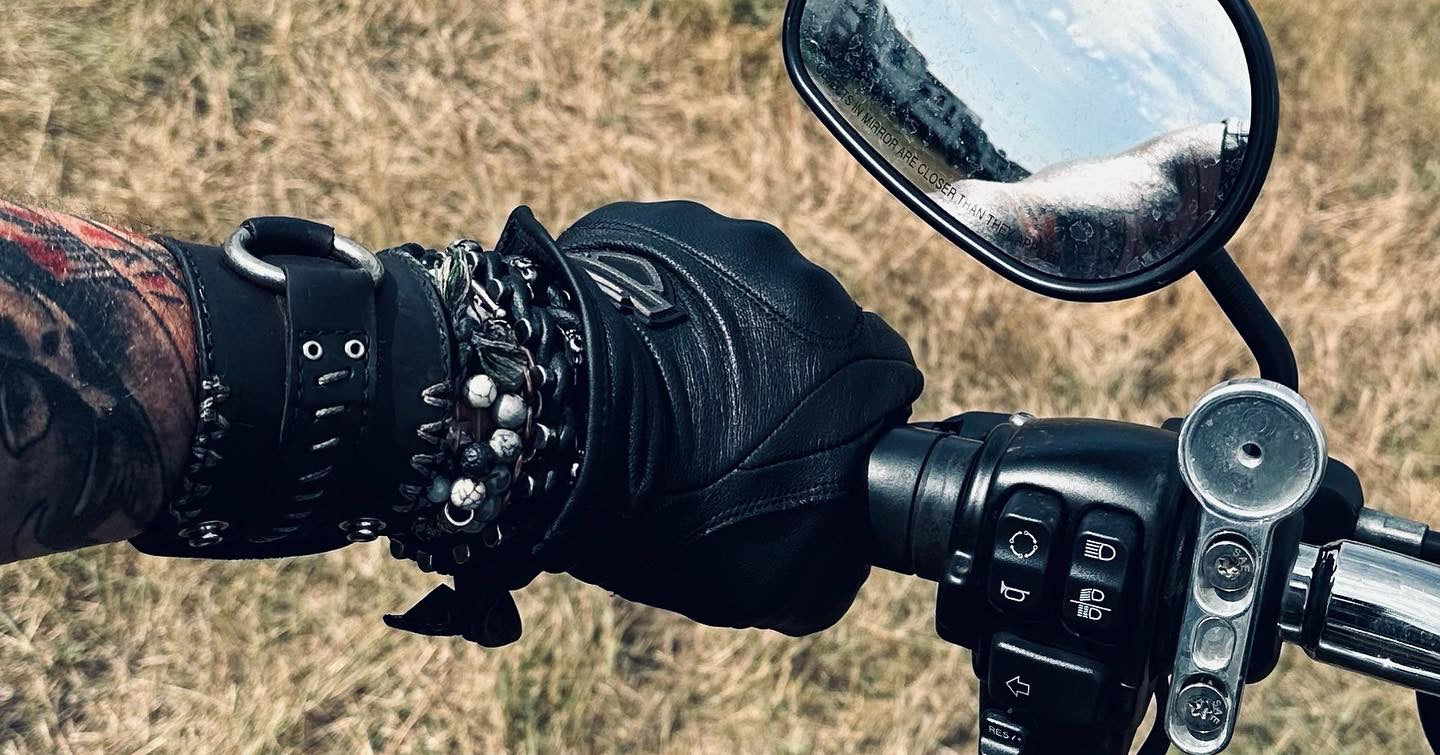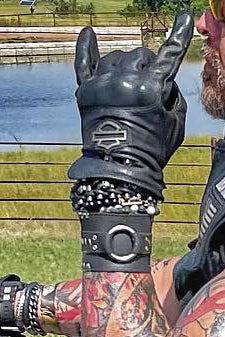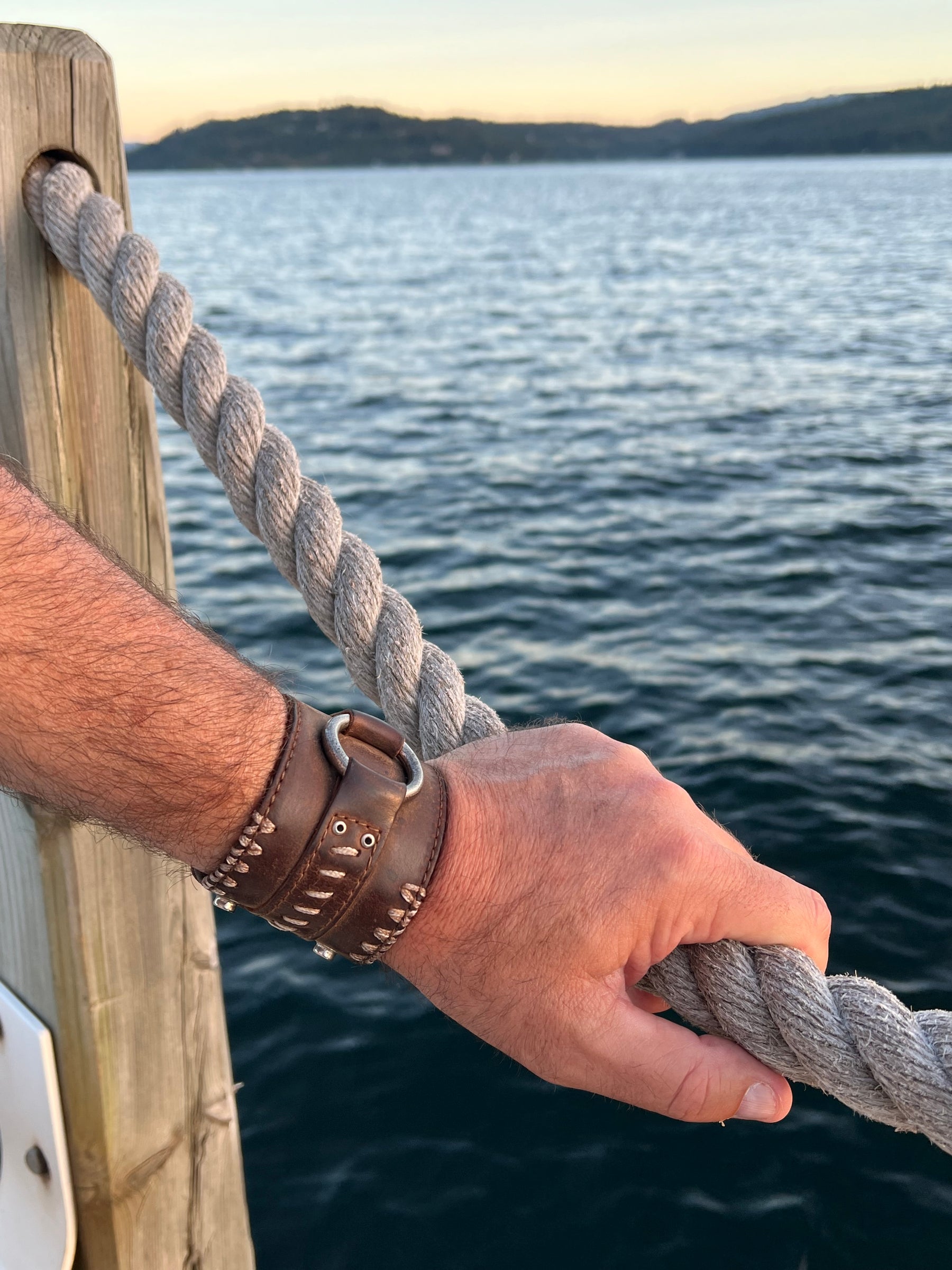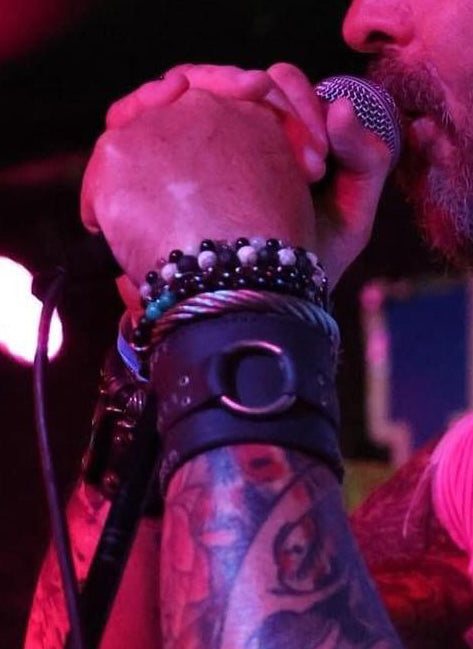 No Quarter - Whiskey Brown Leather Cuff CLEARING OUT OLD STYLE WITH SMALLER SNAPS
Size:
Small/Medium (adjustable to 6" or 7 1/4")
In stock
No Quarter
None asked for, none expected, and none given — neither to myself nor anyone else.
Compromise may be unavoidable in life, but if you don't dodge it at all costs in your music, enjoy the slippery slope to sucktown. Even if you find "suckcess" there, will the money paper over the shame of knowing you're just another party clown for kids? I don't think so, no matter how many clueless bedwetters you cram into a stadium or into your oh-so-"edgy" Kmart clothing line.
To me, it's total commitment or stay home. How do I know when I'm warmed up? When the bloody calluses on my fingertips split open. I just seal 'em back up and keep on playing. (Hey, there's a reason they call it Crazy Glue, not Well-Adjusted Glue. Trick-of-the-trade tip for you, compliments of the chef.)
Uncompromising is just the ante. I don't care if you play the triangle in a basement bingo parlor. If you're not standing up to push the limits, sit down. Forgo the struggle and you loose the soul, the blues. You loose Billie Holiday's voice, Hendrix's swirling feedback landscapes, Stevie Ray Vaughn's eardrum-inverting bends. Hey, dedicated suffering comes with the gig. So while you might think my urge to stuff Justin Bieber in a rusty steamer trunk and kick it down the Grand Canyon is cruel, I'm just hoping to help the kid's music a bit, if possible. He seems like a nice girl.
Me, I'm a natural born attack dog. Tone. Style. Every element of a player's sonic fingerprint stems from their attack, and on the fretboard I become an aggravated swarm of angel dust-addled Maori warriors wielding broken baseball bats. Unrelenting. Unforgiving. My sound leaves a mark. Every time.
And leaving a mark is really the only distinguishing characteristic human beings possess, yet 99.98% never even try. People are born creative and then those instincts are schooled right out of them. They climb into the mold and let everything unique be sliced away. They conform. Well, the operative syllable there is con. I say don't fall for it. Fight.
No struggle, no sustain. And whatever gets thrown at me for turning my back on the soul-embalming, inspiration-crippling black hole of the rat race I just absorb and spit back at the bastards with my playing.
No compromises. No quarter.
Sizes:
• Our cuffs are available in two sizes, small/medium and large/x-large
• Small/Medium cuff (for wrists up to 7 1/4") can be adjusted to 6" or 7 1/4"
• Large/X-Large cuff (for wrists over 7 3/4") can be adjusted to 8" or 9 1/4"
• Cuff width: 2 3/8"
Our leather cuff bracelets come with a set of "snap caps" so if you wear the cuff at its longer length, you snap the caps on the snap studs not being used for a more "finished" look. If you wear the cuff at its shorter length, then pop the snap caps off.
All Anthology leather cuffs are hand-made with a high quality full grain leather on the top and a softer pigskin on the underside.
We use only the strongest industrial grade threads, the same threads used to make parachutes and airbags. That's strength you can trust.
And, our leather burnishes and beautifies with use. All of our leather cuffs have their natural marks, scrapes and scars, which means they have loads of raw, rugged personality.